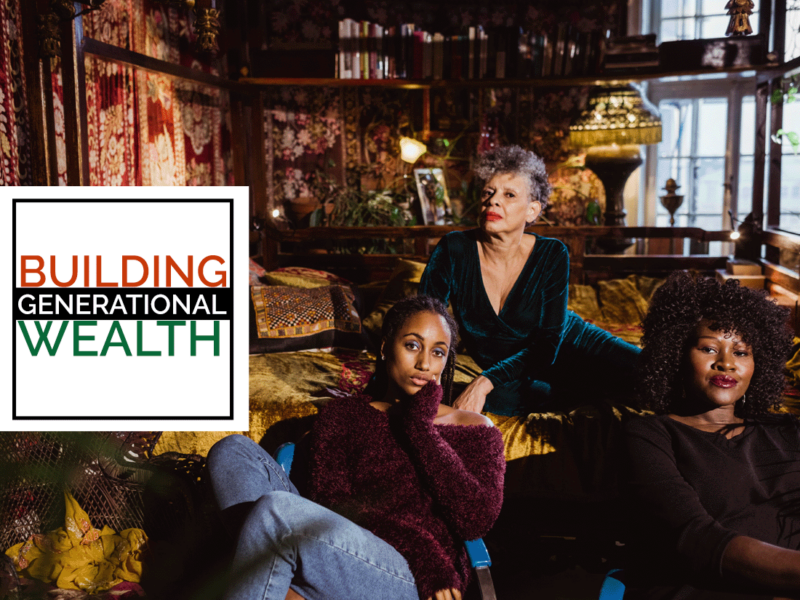 Building Generational Wealth
Imagine walking downtown or along your favorite strip and seeing Black businesses lining the streets. Barbershops, boutiques, local grocers, design studios, and more…creating a vibrant hub for a flourishing community. This is what North Greenwood Ave – better known as Black Wall Street – in Tulsa, Oklahoma was, a 200 businesses strong Black community. Black money circulated within the Black community, created jobs, and built wealth for Black Americans.
For Black Freedmen in Oklahoma, access to land was a game-changer for building Black wealth. Unlike most of the country, they received their 40 acres and a mule. Today we have a number of tools we can use to support the New Black Wall Street. We can circulate our dollars within our community by taking an active role in the #BuyBlack, #BuildBlack, and #BankBlack movements. The New Black Wall Street revitalizes our legacy. It gives us the opportunity to unleash our $1.5 trillion of economic power focused on generating wealth in our community!
Game Changers: Then and Now
Don't get it twisted – many in our community are on the path and moving the dream forward. Nothing about us says we cannot, we are not, and we will not! Everything about us is communicating; we HAVE, we ARE, and we WILL! Here's just a few examples of #BlackExcellence in our past inspiring the wealth building of today.
Known as the founder of Black Wall Street, O.W. Gurley, was a serial entrepreneur, buying 40 races of land and helping other Black people start businesses and reside in the Tulsa area. Marketing mogul Daymond John, an entrepreneur time and time again, reminds us of the undying spirit of #BuildBlack. Resilience and vision created Black Wall Street and assured the success of Fubu after several years of adjusting to the learning curve.
Mabel Little, a survivor of the riots, reminds us of the inspiring young people of today who want to revolutionize the beauty industry. She has been operating her salon business for more than 50 years and started Tulsa's first beautician club in 1918. She is a woman of incredible accomplishment. The lasting power of Carols Daughter since their first sales took place in 1993 were founded in the same vein of longevity and timeliness. Lisa Price's brand caters to our natural hair, seeking to encourage our inherent beauty
A.J. Smitherman, the founder of the Tulsa Star, bluntly spoke the truth about the presence of discrimination. Informing Black Americans of their legal rights and defending their neck of the woods, his legacy serves as the foundation for Sheila Johnson, who, along with her former husband, Robert Johnson, founded Black Entertainment Television (BET). Sheila sold all of her shares in Viacom and decided to use some of the profit from the sale to help fund critically acclaimed documentaries and films featuring African American voices, like "The Butler" based on the life of Eugene Allen and "Willie" – a documentary about Willie O'Ree, the first black hockey player in National Hockey League.
Together, We Make Big Money Moves
Our unapologetically Black debit cards and tailored services like BankBlack Early Pay, CashPlease, and Cash to Your Card give you access to your money faster and provide more flexibility when you need it to Bank Black and support Black businesses across the country. Black-owned banks lend more to our community, forming the movement's backbone. Together we are building Black wealth in our community.
Nowhere else will you see the richness and diversity of Black history on your payment vehicle than with us! Bring the power of Black Wall Street with you everywhere you shop by using your Greenwood Debit Card. Build your wealth with your community, circulate those dollars, and rock some unapologetic melanin!
Side Note: An easy way to upgrade your journey to #GenerationalWealth is by focusing on the #OneTransaction to help generate wealth for you and your family by getting everyone in your network #FinanciallyLIT. Empower every entrepreneur, young leader, and artist within our community. Start with just a single transaction and then keep the learning going by spreading the word!
Those are the keys – to open your account, start your #BuyBlack journey, choose your #OneTransaction for 2022 and get #FinanciallyLIT to jumpstart your #GenerationalWealth.