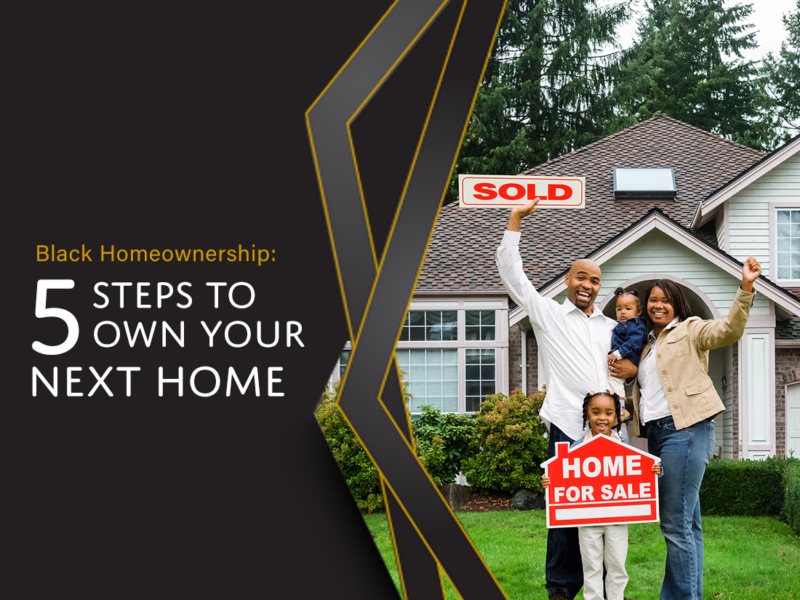 Black Homeownership: 5 Steps to Own Your Next Home
Black homeownership is not just an issue of wealth, but also of equity and opportunity. As the nation's largest Black owned bank, we understand the importance of homeownership. Here are 5 steps that you can take to own your next home.
As background, Black American homeownership in 2022 is at one of its lowest levels since the 1960s. The 2022 The Double Trouble of the Housing Market report shows that the homeownership rate for whites has hovered around 70% since 2017, yet for Black Americans the rate is below 40%. The reasons for the racial homeownership gap are complex and varied—ranging from discriminatory lending and appraisal practices to lower credit scores among Black Americans compared to other communities. However, we shall overcome!
In this guide, we'll explore the challenges of buying a home and how to overcome them so you can be on your way to owning your next home!
1. Get Your Financial House In Order
If you're getting ready to buy a house, one of the first steps is to pull together all your financial information including
Photo ID
Pay Stubs. Lenders need to know you have stable income that will allow you to pay your mortgage each month. …
Proof of Employment
Employer Contact Information
Tax Documents
Bank Statements
Rent Payment History
Asset Information (What you own)
Debt Information (What you owe)
Confirmation of Property Ownership
You will need this information to obtain a mortgage pre-approval or pre-qualification. You should also pull your credit report at www.annualcreditreport.com (A source for FREE credit reports, authorized by federal law.) to make sure the information is accurate. You should also check your credit score to see if you will qualify for a home loan. Minimum credit scores for home loans are 620-650.
Next, obtain a pre-approval or pre-qualification from a lender. A lender takes information on your credit, income, debts, and assets to let you know the size and type of mortgage that you qualify for. As the largest Black owned bank in America and first Black owned digital bank, we provide online financial education to educate you on the home loan process. Check out our buying a home playlist where you can learn financing strategies to help you buy a home while sticking to a budget.
Please note: A mortgage down payment is usually anywhere between 5%-25% down depending on the loan. In some cases, first-time homebuyers can qualify for as little as 3.5% down! Typically, first time homebuyer's need to take a HUD certified homebuyer's class to qualify for down payment assistance programs.
2. Work With A Knowledgeable and Reliable Agent
When looking for a real estate professional to work with, get referrals from family, friends and colleagues but don't just stop there, be sure to search for any reviews. A knowledgeable, reputable real estate agent will make all the difference.
Be sure to set some time aside to interview realtors and clearly explain your needs and expectations as you will be working closely with this professional. A licensed real estate agent can make the difference between just finding a home and getting in the right one and save you both valuable time and money.
When it comes to finding the right property, in addition to your budget, it's important to clearly define what you're looking for. Tour as many homes as possible, both online and, definitely, in person.
Imagine what your next place will look like. Is there an ideal neighborhood that you want to stay in? What is the school district or the quality of the schools in the neighborhood? What is public transportation like in the area? Do you prefer to live in an area that has a grocery store and restaurants that you can walk to? Would you prefer the property come with a homeowner's association that can maintain the yard or will you take care of lawn work? What about the diversity in the neighborhood? Do you prefer a quiet or busy street?
As you continue searching and finding properties, define your non-negotiables and must haves. What tradeoffs are you willing to make to stay within your budget.
IMPORTANT: Visit neighborhoods during different times of the day and night and during weekdays and weekends. You may experience different vibes during different time periods.
4. Make Offer, But Inspect The Property
Once you've found a home that you want, the next step is to make an offer. Your real estate agent can help you with your offer strategy. Sometimes sellers can price their property a little high expecting to negotiate. Keep that in mind as well when deciding on a strong first offer. It's very common that after presenting your initial offer, the seller can come back with a counteroffer. As a buyer—no matter how much experience you have or how many times you've done this before—don't be afraid to bargain for what you want. You never know what someone is willing to do until you ask!
IMPORTANT: Make sure your offer is contingent upon an inspection.
When your offer has been accepted, you will need to schedule an inspection to identify major property issues like roof, plumbing, HVAC, and even electrical issues to the smallest issues (like a broken doorknob). During the inspection, the inspector will be looking for any current and future problems to help you make the most educated decision on whether to bargain for a better price or even purchase the home.
Expect Closing Day to be nerve wracking! It's normal to be nervous about purchasing a home. It's a big step and investment. Your lender will guide you through the process to make sure you have everything you need to close including home owners insurance and any funds needed for your down payment or closing costs.
Closing Day: Congratulations on your new home!!
With all of the excitement surrounding your purchase, it's easy to forget about important steps that come after closing.
Set up your utility bills in your name and hold on to a copy of those as well—it's important to have control over who gets paid if something happens!
Make sure you have a digital and print copy of all your warranties, contracts, property deed, and other documents. You'll need them in case anything goes wrong.
Make sure you know the main switches to turn on and off electricity and water, in case of emergency. Also make sure you have smoke and carbon monoxide detectors.
Once you've got everything set up and ready to go, consider completing any construction work that needs to be done before moving into your new home.
Lastly, get out there and explore! Get to know your neighbors, find grocery stores nearby and hospitals that are nearby (just in case).
One thing about homeownership is that it's not for everyone. But for those who are ready to make the leap, you're not alone. Now that you've learned about the process of buying a home using these 5 simple steps and how to make the most of your budget. It's time for you to put what you've learned into action.
The only thing left for you to do is make that leap of faith into homeownership! This is your chance to make a better life for yourself and close the racial wealth gap.
Don't let it pass you by. Don't let the dream of owning a home slip away. You've worked hard, You deserve it and now it's time for you to reap the benefits of all that hard work.
To learn more about the home buying process check out the buying a home playlist where you can learn additional financing strategies to help you buy a home while sticking to a budget.