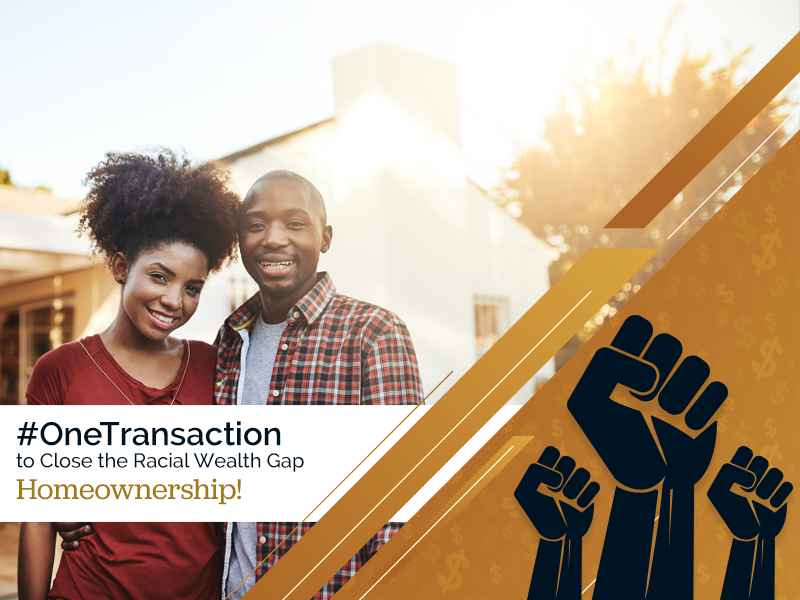 #OneTransaction, Homeownership!
OneTransaction to Close the Racial Wealth Gap, Homeownership
The biggest difference between black and white wealth is home equity. Owning a home can create generational wealth. In cities with 1 million+ residents, Black American homeownership ranges from 25-51% compared to 58-78% for white Americans!
A recent article by MarketWatch indicates that some cities are doing better than others. In D.C. Black homeownership is the highest (51%), compared to Atlanta (47%), Miami (45%), Houston and Detroit (42%), Los Angeles and Boston (33%) and Minneapolis, which is the lowest (25%). Find your city HERE.
As the largest Black owned bank in America and first Black owned digital bank, we want you to focus on #OneTransaction to close the racial wealth gap and create generational wealth, which includes homeownership.
There are pros and cons to homeownership, just like any investment. Investopedia does a great job outlining the benefits (appreciation, home equity, tax deductions, and deductible expenses) and the costs (upfront closing cost, depreciation, maintenance costs and lack of liquidity or the time it takes to sell).
The biggest factor in deciding whether to buy is how long you plan to live in your home. Over time, home prices have increased, which provides an opportunity to build generational wealth.
Percent Change in U.S. Home Prices, Period Ended Aug. 31, 2019
| | One-Year | Five-Year | Since Q1 1991 |
| --- | --- | --- | --- |
| USA | 4.94% | 32.93% | 174.44% |
Here are 8 Steps to Get Started
Determine how much you can afford for your new home.
Come up with a reasonable budget for your home. Review how much money you make, how much you anticipate in expenses, and how much you have saved for a down payment. There are many online tools available for creating a home buying budget, but one of the best can be found here.
Check your credit score.
The higher your credit score, the better chance you qualify for loans with a lower interest rate. You need to have a good handle on your credit situation before talking to a lender or real estate agent. Every American is entitled to a free credit report every year. You can get educated on credit reports here, then go to www.annualcreditreport.com to get your free report. If you need to improve your credit score, there are various action steps that you can take to rebuild credit.
Identify any first-time homebuyer programs in your community.
Today many communities have first time homebuyer assistance programs that provide down payment assistance and even more! Miami-Dade County and Boston, as examples, provide great programs that OneUnited Bank offers. These programs include pre-qualifications or pre-approvals based on their criteria, so you're ready when you find your new home. Simply search "First Time Homebuyer Program (your city and state)". Make sure the program is offered by your local government (.gov).
Create a wish list for your new home.
The National Association of Realtors has developed a "Define your Dream Home" worksheet here that you can use to prioritize the features that are most important to you. Remember to consider things like commuting time and schools (even if you don't have kids now, planning never hurts and neighborhoods with good schools can have higher home values).
Start looking for your new home.
You may want to start looking at homes online or contact a real estate agent. Most people use the internet to start their home search; a good list of online resources to start your search can be found here. You can also check out this list of questions to consider when selecting a real estate agent.
Research mortgage options.
There are many banks and mortgage lenders waiting to sell you a home loan. Do not be intimidated. You are in the driver's seat. We recommend you begin with your bank, which is an Equal Housing Lender, and must abide by all government regulations to protect you from being scammed. Mortgage lenders may offer lower rates but may have terms that are predatory. You can always compare your bank's rate with other options to make sure you're getting the best deal.
This summary is to get you started. Please check with a financial advisor, an attorney and family members and/or friends. Simply focus on getting this OneTransaction done to create generational wealth!
OneUnited Bank is not a financial advisor and recommends you discuss with your family and a financial advisor. All services are not offered by OneUnited Bank. We offer home loans in the Miami, Boston and Los Angeles areas. To learn more visit
qqq.oneunited.com/loans
.