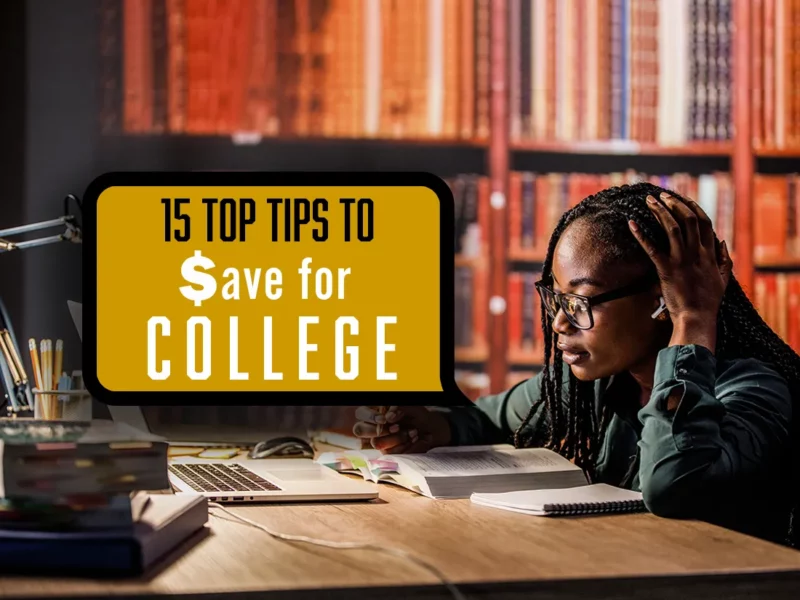 15 Top Tips to Save for College
Today, college costs are too d*mn high! Here are 15 top tips to help you plan, budget, and save for college for you or your loved ones! The Bonus Tip may be the most valuable.
1. 50/30/20 Rule
The common budgeting method suggests putting 50% of your income towards your needs, 30% towards your wants, and 20% towards your savings. Even 10% in an automatic savings plan is a good start.
Budgeting is your best tool to start your financial education journey. Check out Building Financial Capability as part of our online courses on #FinancialLiteracy!
2. Save on Checking
With our Black Wall Street Checking account, you can leave the monthly maintenance fees behind. With a minimum opening balance of $25, it's easy to set up and start diving into account benefits like BankBlack 2-Day Early Pay, AutoSave, and a top-rated mobile app.
With the OneUnited Empowerment Network offering over 100,000 surcharge free ATMs nationwide, you can save money every time you get cash!
3. Automate Your Saving
Wealthy people know that the best way to save is with an automatic savings plan because if it goes in your pocket, you're more likely to spend it! With BankBlack Savings, you can start one of the most important steps in your financial planning journey: saving. Enjoy no fees with a monthly direct deposit and higher rates than the national average!
Let AutoSave take care of the savings for you. We take your savings to the next level and round your spending off each day, automatically adding the change to your savings account.
4. Avoid Overdrafts as Much as You Can
Overdrafts can result in costly fees. Avoid it as much as possible. We offer FREE Overdraft Protection by connecting your checking account to another OneUnited Bank account.
Need cash for an emergency? Check out our CashPlease short-term loan program without a credit check.
5. Make Payments on Time
Being late on a payment can incur late fees, increased interest rates, and have a negative impact on your credit score, which can make it harder to obtain credit in the future. So always make your payments on time, even if it's the minimum payment.
10 Ways to Make Your Dollar Stretch
1. Leverage Student Discounts
Many companies offer student discounts throughout the year. 10% is the most common discount rate, but sometimes, there are discounts up to 65%.
Make sure to keep a lookout for clothing, food, museum, and service discounts. During the beginning of the school season, there is often an increase in discounts on school products and clothing!
2. Save on Textbooks
When possible, purchase your books from resellers at a discounted rate. You can even sell your books back to a buyer on a marketplace platform when your courses finish.
3. Consider a Part-time Job
Whether a part-time job at school, with a company, or your own side hustle, having a stream of income while you study can greatly help you stay ahead of student debt and the cost of living.
Babysitting, food delivery, writing, and selling products online are just some of the things you can do to boost your income!
4. Check for Free Events
Attending free events can help you build your network and gain exposure to new opportunities. Student organizations love to put on events, and oftentimes, they even have food! A double win: you connect with your college community and enjoy a cost-effective meal.
Check your school affiliations' websites and social media handles to see when upcoming events are going to be held.
5. Take Advantage of Financial Aid and Scholarships
There are millions of dollars in scholarships available every year. Most students don't realize that they might qualify for several, ranging from $100's to $10,000's.
The United Negro College Fund (UNCF) awards more than $83 million in scholarships each year!
6. Live at Home
As the cost of higher education continues to rise, going to school near your parents is not a bad idea in order to cut down on major costs like housing and accommodations.
Dorms can be expensive and oftentimes are factors that distract you from your main goal: getting your degree. At home, you have your parents close by to guide you on budgeting and managing your finances better.
7. Cut Out Unnecessary Expenses
Buy groceries instead of eating out. Doing this can help you track your spending better, eat healthier, and limit your spending on food.
Decrease your alcohol spending. College is a time to have fun, but spending your paycheck every weekend going out can quickly eat away any extra money you thought you had available.
Meal plan and share with your friends. Creating a meal plan can be a way to better understand how much you spend on food. Challenging your friends to join you can be a fun activity and help everyone hold everyone else accountable.
Switch to less expensive alternatives. Subtracting one of your streaming services, eliminating your excessive morning coffee runs, or buying thrift clothes helps you limit excessive spending.
8. Buy Used or Secondhand
Intentionally buying used furniture, used clothes, a used car, or previously owned electronics helps you work with more in your budget for other things like savings, goals, or that trip you wanted to take to celebrate passing all your exams!
9. Wait on Large Purchases
Purchasing large items prematurely can lead to buyer's remorse. Make sure you have budgeted appropriately before you decide to make any large purchases like headphones, a new laptop, or a watch. Always consult your budget!
10. Carpool and Save on Transportation
Whether you are traveling to a nearby city for a weekend getaway or traveling home for the holidays, consider carpooling to save on gas money. This holds especially true if you do not own a car. Traveling together with friends can be incredibly fun and cost-effective.
11. Bonus Tip – Student Loan Forgiveness
According to the Federal Reserve Bank of St. Louis, Black men and women start out with more student debt than their white counterparts, and because of their lower earnings, they pay it down more slowly, which increases the cost. As the largest Black owned bank in the country, OneUnited Bank is focused on closing the racial wealth gap. We hope these 15 top tips plus the bonus tip help to make college more affordable to build generational wealth.