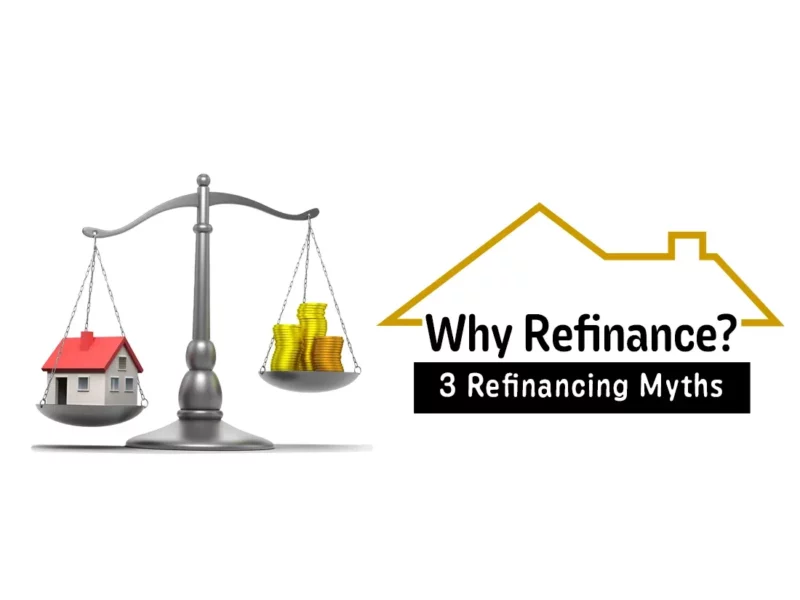 Why Refinance? 3 Refinancing Myths
Even with rising rates, there may still be a good reason to refinance. Don't get stuck in a bad mortgage. Join us as we debunk common myths and reveal the strengths of refinancing. Make #SmartMoneyMoves today!
When you are informed, you are empowered! Let's help you make an informed decision for your next potential refinance.
The Strengths of Refinancing
Experts suggest considering a mortgage refinance when your current rate is above today's rate by 0.75%.
Refinancing at the right time can help you secure a much lower fixed rate, and save you thousands of dollars in interest over the lifetime of your loan. That's money you could use to pay down debt, invest, or go on that dream vacation you've been planning.
Reduce Your Monthly Payments
If you're struggling to keep up with high monthly payments on a 15-year mortgage, refinancing to a 30-year mortgage can help ease the burden. It's a great way to lower your monthly payment and free up some cash for other expenses.
The opposite holds true, if you are confident, you can take on higher monthly payments, you can switch to a 15-year mortgage to cut down on interest charges. This is your opportunity to change your payment duration to what better suits your financial plan.
Stabilize With a Fixed-Rate
If you have an adjustable-rate mortgage, refinancing to a fixed-rate mortgage can provide stability and help you avoid surprises down the road. With fixed rates, budgeting is easier, and making payments is less stressful.
Securing a fixed rate might make sense when rates unpredictably rise due to inflation. With a fixed-rate mortgage, your payment stays the same even if rates continue to rise.
Debunking Refinancing Myths
Myth #1: Refinancing is too much work.
Yes, refinancing your home loan requires some effort, but it can save you tens or even hundreds of thousands of dollars over the lifetime of the loan. Plus, a refinancing process can be streamlined, simple, and hassle-free.
Myth #2: Fees make refinancing not worth it.
While it's true that refinancing comes with fees, the amount you can save over the lifetime of the loan can far outweigh the cost of those fees.
Myth #3: Refinancing won't save you that much.
You might be surprised by how much you can save by refinancing. Our refinancing calculators can help you get a better idea of the potential savings.
OneUnited Bank Mortgage Calculator
One of our favorite tools! Use our Mortgage Calculator to quickly understand how much interest you could pay and estimated principal amounts.
Confused about mortgage terminology? We got you! This resource features accessible definitions for common mortgage language.
Even better, you can add in prepayments to see how they can help you drive down your loan balance and reduce interest charges.
Your home may be one of your most valuable assets. That's why lenders offer refinancing options that can help you save big on your mortgage.
OneUnited Bank, the nation's largest Black owned bank, offers home loans in Boston, Los Angeles, and Miami. Contact one of our loan consultants today to learn more about how we can help you on the path to financial success. #BankBlack