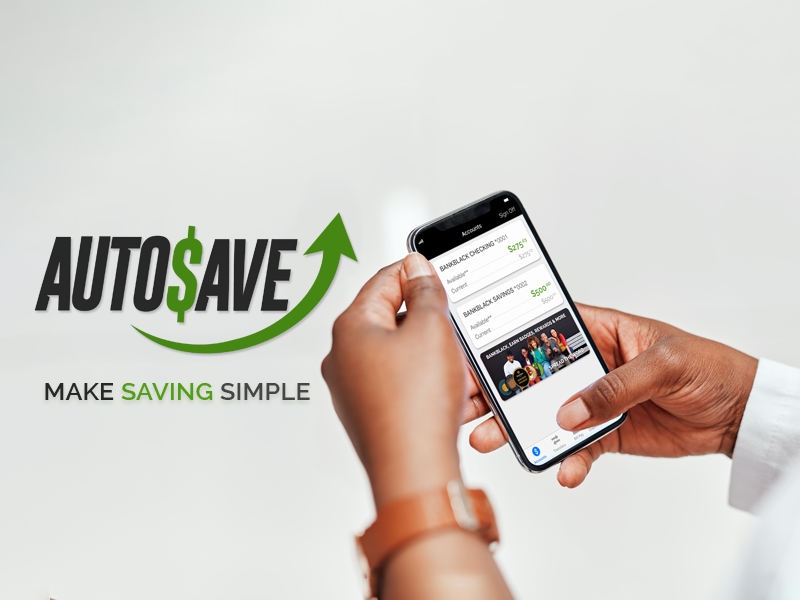 Make Saving Simple with AutoSave
In 2021, the need to be prepared for an emergency is extremely important. We all need some sort of a saving plan, but the discipline of saving can be a bit challenging. Because of this, we have launched a digital transfer service that will automatically round up your daily transactions from your debit card purchases to the nearest dollar amount (your change). At the end of each banking day, your total change is automatically transferred into your savings account. It's that simple!
It's Quick and Easy to Enroll!
Setting up AutoSave is quick and simple. Here are the steps:
Step 1: Login to mobile banking
Step 2: Click on the "More" tab
Step 3: Click on "AutoSave
Step 4: For your checking account, slide the button to "Yes"
Any changes in the service selection will be processed within 24 hours. Open a checking and savings account today to enroll in AutoSave!
Why AutoSave Is Important?
The amount of money you can save each month depends on your financial status. However, even saving $10 a week can positively impact your wealth.
Essentially, our AutoSave program can help you streamline extra "change" into your pocket. However, implementing a personal savings goal in combination with AutoSave can lead you to financial freedom. For more advice on saving, check out our "Save For Life" automatic savings plan.
Don't stress it, sign up for AutoSave today!