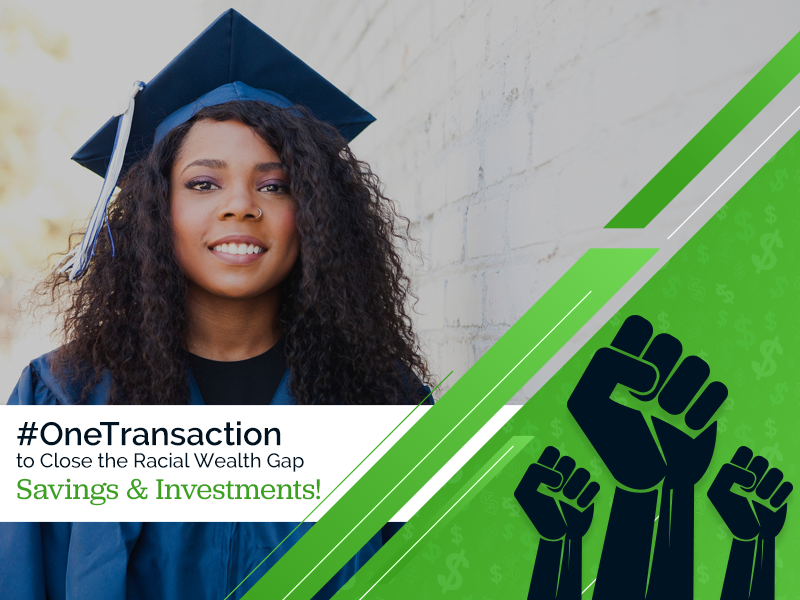 #OneTransaction, Saving and Investment
OneTransaction to Close the Racial Wealth Gap, Savings and Investments
Save is not a "four-letter-word"! Yes, saving can be challenging, but, if you know what wealthy people know, you can do it!
As the largest Black owned bank in America and first Black owned digital bank, we want you to focus on #OneTransaction to close the racial wealth gap and create generational wealth, which includes saving and investments.
Wealthy people know the first rule of saving is to do it automatically. If ALL your paycheck goes into your pocket, you will spend too much and save too little, if at all. An automatic savings plan, where funds move automatically into a savings or investment account is the most effective way to save. You're less likely to miss the money, yet your savings will add up!
Wealthy people also know that the odds of winning the lottery are 1 in 292 million! So, playing the lottery is not a substitute for saving.
The amount of money you save depends on your budget, but even saving $25 a week can add up quickly. Look how much you can save over time with an Automatic Savings Plan in a basic savings account. You can choose to invest and possibly save more.
Automatic Savings Plan

Weekly
Annual Savings
Savings in 5 Years
$25.00
$1,300.00
$6,500.00
$50.00
$2,600.00
$13,000.00
$100.00
$5,200.00
$26,000.00
$300.00
$15,600.00
$78,000.00
(Excludes Interest)
Here are 8 Steps to Get Started
Have a family meeting.
Start by sharing this article with your family members to let them know you are seeking to create generational wealth. Saving is part financial and part emotional, so having your family on board is helpful. A family meeting also instills the importance of saving to your children.
Set up an automatic savings plan immediately.
Yes, there are many saving options, and everyone is looking for the "unicorn" investment that will generate big returns. Yet, having an automatic savings plan vs NO plan is a big difference. So, start with easy options, such as:
Set up an automatic bi-weekly or monthly direct deposit from your checking to a savings account or divide your current direct deposit between your checking and savings account. (Your payroll provider can do this easily.)
Use programs that will automatically round up your purchases into a savings account, like our AutoSave service.
Set up a retirement plan.
We know…you're either too young to think about retirement or too old to plan for it now. Regardless of age, retirement plans have great tax benefits and will supplement your social security payments. If your employer has a 401(k) or 403(b) Plan where they match your contribution, that's "free" money to you if you participate. Contributions from your salary or wages are made automatically thereby providing a great automatic savings option. Retirement plans also provide an opportunity to invest in stocks, bonds, money market accounts and/or mutual funds. To learn about retirement plan options, click HERE.
Set up a college fund if you have children.
College tuition is expensive and student debt can be a burden on the next generation. Yet there are many different types of college savings plans to automatically save and reduce the burden including mutual funds, custodial accounts under UGMA/UTMA, qualified U.S. Savings Bonds, a Roth IRA, a Coverdell Education Savings Account (ESA) and a 529 Plan. Each of these options has pros and cons. To learn about college fund options, click HERE. To learn about tax benefits of different college funding options, click HERE.
Investing in the stock market.
Owning stock in publicly traded companies or mutual funds that invest in stocks and bonds can provide great returns, but it's important to understand the risks. Whereas a savings account is FDIC insured, investing in the stock market is not FDIC insured! However, the returns on stock market investment are much higher over the long term.
According to NerdWallet: The average stock market return is 10%, which is much higher than interest rates on a savings account. However, the returns in any given year can be positive, even higher than 10%, but also negative. Yes, you can lose money in any given year. The stock market is volatile, which reflects the risk. It's better to have a longer-term (5 years or more) investment horizon. For information on investing in the stock market for as little as $500, click HERE. Or for a simple way to start investing, check out Stockpile HERE.
Investing in real estate.
There are many real estate investment options including direct investments in single family, multifamily, commercial real estate or even vacant land or investing in Real Estate Investment Trusts or REITS.
The biggest difference between Black and white wealth is homeownership. Home is where you live, but its also a real estate investment. Paying rent, helps your landlord build wealth. Owning a home helps you! There's also multifamily property, where you (and family members) can buy a home with 5+ units to rent out. Investing in multifamily property gives you current rental income, tax benefits along with potential property appreciation. For a guide, click HERE. For direct investment in real estate, there's an adage that applies: Location, location, location! The long-term value of similar property varies widely by location. So, choose the property and location wisely.
Publicly traded REITs are companies that own commercial real estate (like hotels, offices and malls). You can invest in shares of these companies on a stock exchange. By investing in REITs, you are investing in the real estate these companies own, without owning real estate directly. REITs are required to return at least 90% of their taxable income to shareholders every year. This means you can receive attractive dividends. With publicly traded REITs, you can buy or sell shares on the stock exchange, which makes the investment more "liquid" (or accessible) than buying or selling a home or direct investment in real estate. However, as with any investment, there are risks (REITS are not FDIC insured) and you can lose money. It's better to have a longer-term (5 years or more) investment horizon.
Check out cryptocurrencies.
Cryptocurrencies, like bitcoin, work using a technology called blockchain, a decentralized technology spread across many computers that manages and records transactions. More than 6,700 different cryptocurrencies are traded publicly. The total value of all cryptocurrencies on Dec. 18, 2020, was more than $645.7 billion, according to CoinMarketCap.com, and the total value of all bitcoins, the most popular digital currency, was about $421.7 billion. Many investors see cryptocurrencies as mere speculations, not real investments because they are not FDIC insured like a savings account and they do not generate cash flow like a stock or multifamily property as examples. So, for you to profit, someone must pay more for the currency than you did. The value of cryptocurrencies fluctuates wildly, indicating its risky. So, beware.
To buy cryptocurrencies, you'll need a "wallet," an online app that can hold your currency. Generally, you create an account on an exchange, and then you can transfer real money to buy cryptocurrencies such as Bitcoin or Ethereum. Here are NerdWallet articles on how to invest in Bitcoin.
Avoid scams.
There's a well-known saying: "If something sounds too good to be true, it probably is!" Avoid investing in "opportunities" that promise high returns with low risk. Investments that offer higher returns, like cryptocurrencies and the stock market, have higher risks. And investments that offer lower returns, like savings accounts, have lower risks. To avoid scams, consider working with a financial advisor who you trust and/or consult with family members or friends who have investing experience.
This summary is to get you started. Please check with a financial advisor, an attorney and family members and/or friends. Simply focus on getting this OneTransaction done to create generational wealth!
OneUnited Bank is not a financial advisor and recommends you discuss with your family and a financial advisor. All services, including non-real estate secured business loans or equity capital, are not offered by OneUnited Bank. To learn more visit
qqq.oneunited.com/loans
.