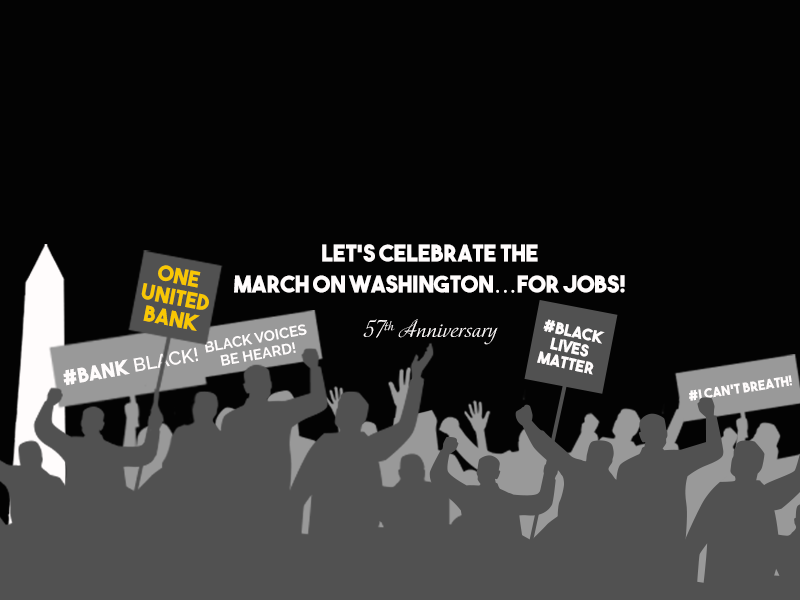 Let's Celebrate the March on Washington for Jobs!
The March, which was held in Washington D.C on August 28th, 1963, was organized through an alliance of civil rights and religious organizations and unions to advocate for the civil AND economic rights of the Black community. Today, we are still fighting for our civil rights with the #BlackLivesMatter  Movement, but we must not forget our economic rights, as reflected by the #BankBlack and #BuyBlack.
Recently, Nexflix announced it would invest $100 million in Black-owned banks and organizations that support Black communities around the country. Their announcement spurred other corporations to identify ways to support #BlackLivesMatter and Black economic development including Biogen, Salesforce and Microsoft. However, there are five hundred Fortune 500 companies. We still have not reached a critical mass of support.
Today, we can use the power of the internet to advocate for civil and economic rights!
The March on Washington, where Dr. Martin Luther King Jr. gave his I Have a Dream speech, was one of the largest political rallies for human rights in United States history. It was estimated that 250,000 attended. The March is credited with helping to pass the Civil Rights Act of 1964 and the Voting Rights Act of 1965.
Today, over 2 million people supported #BlackOutDay2020. Today, we know that the Black community spends over $1.2 trillion annually. Today, we can use the power of the internet to organize marches and protests, spend our money with companies and brands who respect our community and deliver our message that Black Lives Matter and Black Money Matter. Let's do it!