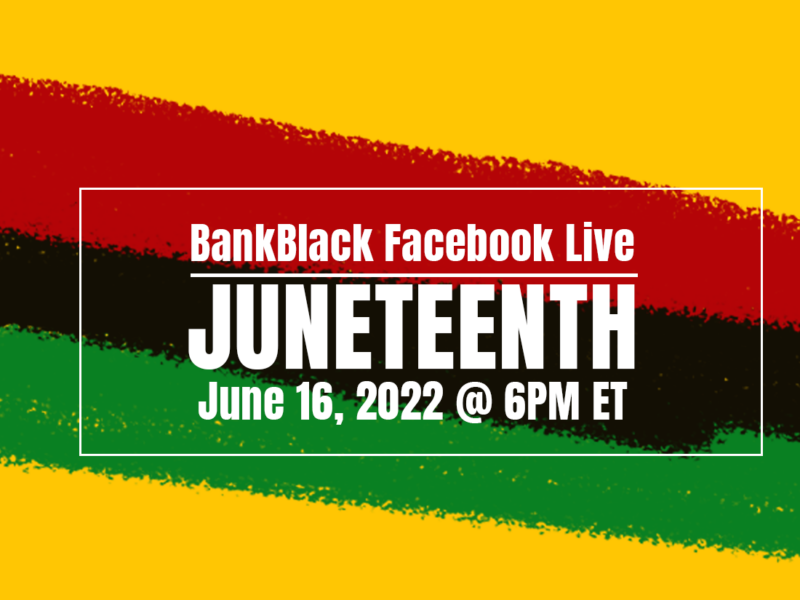 You're Invited to the BankBlack Facebook Live Event to Celebrate Juneteenth!
We invite you to join us for a BankBlack Facebook Live Event on Thursday, June 16, 2022, at 6 PM ET to celebrate Juneteenth!
One year ago, on Juneteenth 2021, we launched our OneTransaction Virtual Financial Conference to build wealth in the Black community.
For our anniversary, our Chairman & CEO, Kevin Cohee, and President & COO, Teri Williams, will reflect on our progress and respond to your feedback in the comments
Here are some questions they will discuss
Was the OneTransaction Virtual Conference successful?
Yes, it was very successful with 35,000 people enrolling and the majority of attendees feeling more educated and confident about money. The reality is the racial wealth gap for each Black family can be closed by one strategic transaction. ONE!
What has changed financially for our community since the Conference?
The biggest changes in the economy have been an increase in interest rates, a decline in the value of cryptocurrency, inflation, and a continued focus on technology. All of these changes can represent a financial opportunity, but we need to be purposeful about how we use our money.
What has changed for OneUnited Bank since the Conference??
We launched many new services including:
Our new Greenwood Card with no monthly fee to celebrate Black Wall Street
Our partnership with Lendistry to offer small business loans from $50,000 to $5,000,000
CashPlease, our small dollar loan program with no credit check
Our new Super App that includes money management, rewards, financial education, and makes it easier to add money
Our customers can now withdraw money from Chase Bank ATMS for no fee
Our money management service that allows our customers to budget and get financial tips
Our summer Jingle Contest where anyone can win $5,000 for the best #OneUnitedJingle
Our OneTransaction Podcast, which provides hidden gems from Black financial experts that is entertaining, informative and available wherever you listen to podcast including Apple, Google, and Audible.
And we're hiring to continue our success!
What new programs can we expect over the next year?
We will continue to improve our services. That's why we're having the BankBlack Facebook Live Event on Thursday, June 16, 2022, at 6 PM ET. To get your feedback on how to move forward! Please join us!