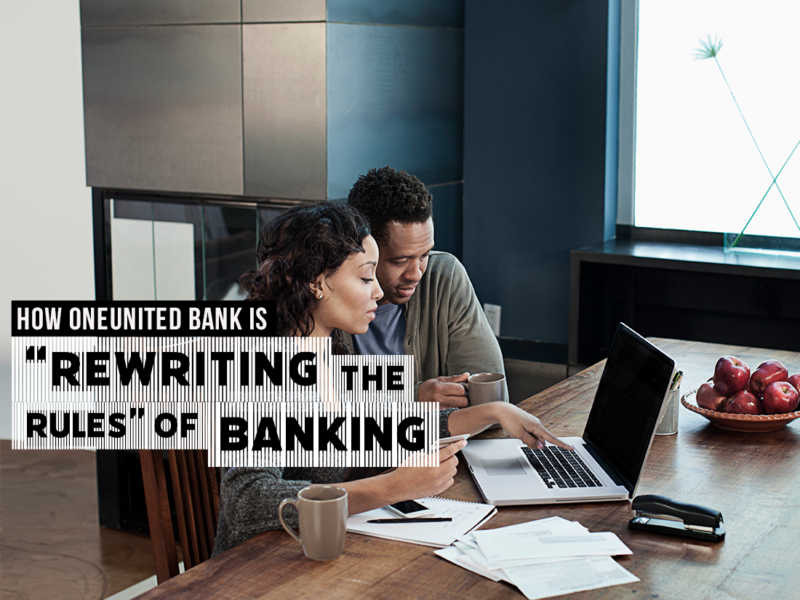 How OneUnited Bank is Rewriting the Rules of Banking
As the nation's largest Black owned bank, our key focus is to close the #RacialWealthGap! We leverage technology to improve the lives of the Black community. In 2016, we lit the fire of the #BankBlack movement and continue to champion its blaze!
With innovative solutions, we help you BankBlack, BuildBlack and BuyBlack. Our community is on the rise – It's the power of the Black dollar!
Kevin Cohee, Chairman and CEO and Teri Williams, President and COO, join CNBC's docuseries "The Shift", presented by Salesforce to discuss our mission and our recent digital transformation.
The reasons for the racial wealth gap are deep and complex. Our toil built the foundations of the world's greatest nation, and our movements for equality serve as inspiration for countless global reckonings on inequality. Yet, we see a 1000% difference in wealth between white and Black Americans. This is not a mistake, it's by design… systemic racism alive and well.
Once #BankBlack was on the lips of Black leaders and under the thumbs of our community, we experienced unrivaled growth. Money was on the move! We needed to respond, and we did.
Our digital transformation helped us bring our abandonment rate from 15% to just 1%.
Recognizing areas where we needed to improve and solve our community's most pressing problems, our digital transformation with Salesforce solutions helped us to bring our Contact Center abandonment rate from 15% to just 1%. Leveraging customer and social media data, we could respond in an agile manner to customer needs. In pursuit of unlocking $1.2 trillion of economic might, we sought to unleash our organizational potential, innovating, and deepening our customer relationships.
In Black Wall Street we saw a potential reality for Black success, unimpeded until it was burned to the ground. The audacity to garner our community's collective efforts to make economies that worked for us was seen as a violation. Remnants of this tyranny live on in the gaps, the gaps in wealth, income, home ownership, creditworthiness, and many more.
CashPlease, our short-term loan of up to $1,000, not only is more accessible but it has the additional benefit of helping you establish credit. Our digital transformation is key in helping us approve customers quickly and get their funds to them within our 4-hour target.
Black Americans are 105% more likely to turn to payday loans.
Unequal treatment, inaccessibility, and systemic exclusion put our community at a disadvantage when seeking financial services and solutions. We are on a mission to radically challenge and change this narrative. How do we even reshape such a narrative? This is how!
We came to terms with the fact that our voice is #UnapologeticallyBlack and our relationship with our community needed to be authentically our own. A relationship that is built on our model, not the traditional bank relationship model. At this juncture, our customer numbers tripled!
We don't just welcome our community; we fight alongside them to close the wealth gap! Our reach is incredible with a social media presence that rivals the largest retail banks. Our community shows up and shows out to help us spread the word on everything from the #OneTransaction you can make to close the #RacialWealthGap to the #OneUnitedJingle. Black business. Black entrepreneurs. Black teachers. Black civil servants. Black creators. Black is the future and now is the time to propel it into its unapologetic next chapter. So, let's #BuildBlack together! #BankBlack