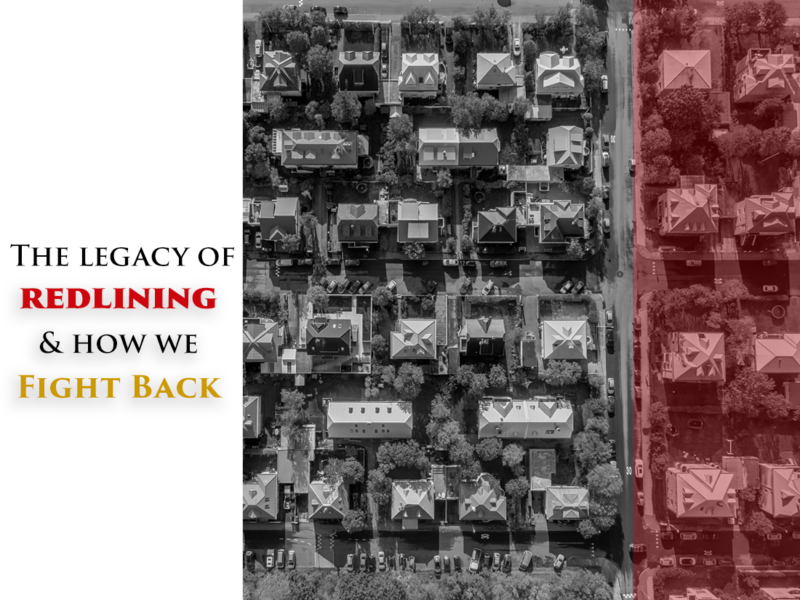 The Legacy of Redlining & How We Fight Back
Have you ever felt that lenders or real estate professionals are not providing full services to you or the Black community because of race? Your feeling or intuition may be due to redlining…and we need to fight back!
Redlining can be defined as discriminatory practices that remove access to services, typically financial and housing, for communities deemed "unworthy of investment" and "hazardous" based on race or national origin.
Unfortunately, redlining used to be legal. Laws that allowed segregation in metropolitan districts nationwide via redlining were implemented by the U.S. government at the local, state, and federal levels during the Jim Crow era. They had a dual effect of enriching and subsidizing the construction of white suburbs.
The Fair Housing Act of 1968 prohibits discrimination based on someone's identity in the sale or rental of housing, such as mortgages, housing assistance, and other housing-related activities. This landmark legislation was signed into law after Dr. Martin Luther King Jr's assassination during the civil rights era. Dr. King was deeply associated with the fight for fair housing.
The concept of redlining applies across zip codes as a wicked issue, affecting nearly every aspect of life under systemic racism.
Denial of healthcare
Poor educational access
Denial of credit and insurance
Increased levels of pollution exposure
Banks blocking people of color from accessing loans
Intentional construction of supermarkets unreasonable distances from communities, leading to food deserts
Redlining significantly contributed to the #RacialWealthGap and its effects on accessibility, economic inequality, and #GenerationalWealth. Studies have shown the long term effect of redlining on Black communities even today. FiveThirtyEight analyzed 138 formerly redlined cities and found the lasting impact of segregation with bad outcomes for the Black community.
Reverse Redlining can be defined as the purposeful targeting of mostly non-white neighborhoods for higher prices, higher interest rates, or lending on unfair conditions.
Reverse redlining took place in neighborhoods that were the targets of blockbusting, the practice of strategically frightening white residents with scare tactics of Black residents moving in. After using fearmongering to sell white residences at discounts, these real estate agents would turn around and sell the same properties to Black homebuyers who had little to no access to better neighborhoods at inflated prices and less advantageous loan rates.
Equal access to the internet and the digital divide are insidious ways redlining has transformed to affect our communities.
Internet service providers often neglect or refuse to service persons of color and low-income areas due to their inability to make a profit. Without stable internet service, work, school, tele-health, online banking, and more are less accessible.
Our data is a precious commodity, utilized by tech companies to target and refine algorithms. At times, these algorithms are biased and re-create the same issues we face offline. Whether intentional or unintentional, there are routine instances of online realtors skewing their services towards certain communities-digital redlining.
The tactic of redlining is very applicable now that it is used to frame injustice on different societal levels. Other forms of redlining span education, politics, and health.
As recently as October 22, 2022, the Justice Department announced its new Combatting Redlining Initiative. Sharing such initiatives with our community as well as voting for bills and leaders who seek to rectify modern redlining are ways we can address redlining's legacy. From supporting public transportation to improving environmentally hazardous efforts, every voice compounds!
We can challenge modern day forms of redlining by holding institutions accountable, especially as the battle transitions to digital platforms. Let's get behind policies and organized efforts that confront bias in our digital lives and improve our local communities.
Creating jobs in our community and building our own businesses puts us in a better place to achieve the prosperity and independence of Black Wall Street. Shop local and support the development of Black-owned businesses to spark and maintain our collective economics!
Access to housing, financial services, and opportunities should not be withheld from our community. By buying, banking, and building within our communities, we combat traditional and modern redlining, thus reclaiming our power!
Here, at OneUnited Bank, we have several branches located in our community to do this. We are determined to improve access to financial services for the Black community. Open an account today to join the #BankBlack movement.