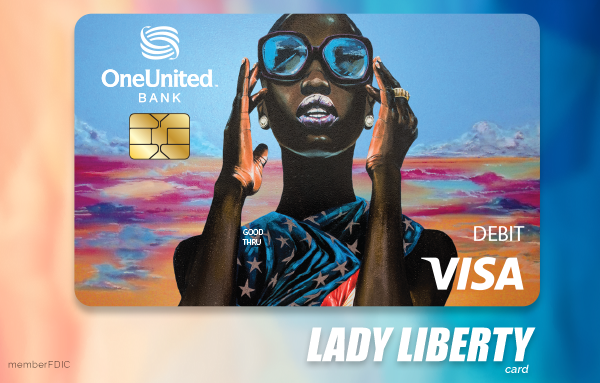 The Lady Liberty Visa Debit Card Makes Her Entrance!
"

Love my card! The faces I get when they have to hold it and swipe... priceless!
Yes, we heard you! We know there are many reasons to #BankBlack including the feeling we experience when we transact business…which is why we now introduce the "Lady Liberty" Visa Debit Card!
The back story is that Lady Liberty is the front story. She stands over 12 feet high in a mural on the front of our Miami branch. When the mural, Thunder & Enlightening, was unveiled in July 2015, many admired her beauty, grace and confidence. They also felt the power of her presence…on a bank. Now, the power of her presence will be shared with the world!
OneUnited Bank, the largest Black owned bank in America and the first Black internet bank, launched the national #BankBlack Challenge to harness the collective economic power of the Black community and allies of the Black community who embrace economic development. The Black community spends $1.2 trillion annually. What better way to show that collective economic power by having Mona, Amir and now Lady Liberty Visa Debit Cards transacting business across America!
Yes, Lady Liberty makes her entrance…to symbolize the power of our dollars! To get your Lady Liberty Visa Debit Card, open a checking account today at www.oneunited.com/LadyLiberty.
She's waiting!