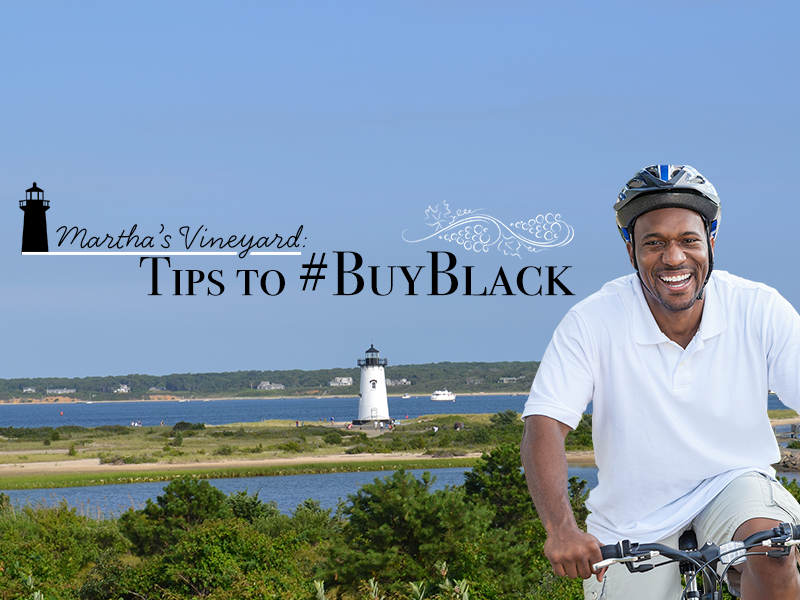 Martha's Vineyard: Tips to BuyBlack
Martha's Vineyard has long been a summer destination for Black families. It's one of the few places where we feel at peace, our children can independently roam, and the Black dollar is respected. As the largest Black owned bank with offices in Boston, we know the Vineyard well. Here are 6 tips for a visit, with #6 to BuyBlack™!
The first Black Americans to arrive in Martha's Vineyard (aka the Vineyard) were enslaved or worked as whalers or domestic workers and would socially gather in Oak Bluffs (aka OB), a town in the Vineyard. According to Richard Taylor's book "Martha's Vineyard: Race, Property and the Power of Place", the island "is an exceptional community in America that has seen blacks and whites live together without the burden of structural institutional racism. The absence of a pervasively discriminatory culture on the island allowed blacks to buy property as early as the 19th Century."
In 1912, Charles Shearer and his wife Henrietta (Merchant) Shearer, both alum of Hampton Institute (now Hampton University), purchased land, built, and opened Shearer Cottage in Oak Bluffs as the first inn for Black vacationers. They saw a business opportunity to provide a safe haven for Black folks who were otherwise unwelcome (sound familiar?).
A "who's who" of prominent African Americans steadily streamed into Shearer Cottage throughout the decades. Madame C.J. Walker, singer and activist Paul Robeson, actress Ethel Waters, and opera singer Lillian Evanti all stayed there. Adam Clayton Powell, Jr., New York's first Black Congressman, regularly summered at the cottage during his childhood. Successful African Americans who arrived from all over the country began to buy property and transform Oak Bluffs into their second home.
The Vineyard economy is largely driven by its vacationers – second homeowners and visitors – who bring significant economic activity to the Island. Hospitality (food and accommodations), retail, construction, and real estate are the four key industries that make up more than half of the Island's economy.
From winter to summer, the population swells from about 20,000 to more than 200,000!
Seasonal homeowners and their guests generate more economic activity (38%) than year-round residents (33%). Vacationers and day visitors generate about 26%.
More than 70% of businesses have 1-4 employees and most are locally owned. Martha's Vineyard has very few national chain stores or restaurants, thereby retaining a very local culture.
With the median home sale price at over $1 million and only 43% of homes occupied by year-round residents, most people on the Vineyard are visitors. According to the U.S. census, there are approximately 1,000 full time Black residents on the island. Many own 2nd homes. Here's a good realtor for insight on the housing market.
There's so much to do and see in Martha's Vineyard, especially in late July and early August, when there is a swoon of Black visitors from all over the world. Here are 6 tips, with #6 to BuyBlack™!
Plan Ahead. The Vineyard is difficult to just drop by, although you can take a day trip from Boston or surrounding areas. It's best to plan ahead, making hotel or home rental accommodations and travel plans even a year in advance. Many homes are rented to the same families year after year, so start looking early to find the best and most affordable options.
Take the Ferry. You can fly to the Vineyard, but there's something about taking the ferry that makes you feel like you're leaving the world behind. There are two options: Steamship Authority (with/without cars) or the lesser known Island Queen (without cars). Make sure to coordinate your hotel/home and ferry reservations.
Bring/Find Your Tribe. Most activities on the Vineyard take place in people's homes or through gatherings of people who know each other. So, either travel with family or friends, plan to connect with people you know, or come during festivals like the Agricultural Fair in West Tisbury and Illumination Night in OB where you're likely to find folks you know.
Visit Each Town. Martha's Vineyard has six towns, each with very different personalities: Edgartown, Oak Bluffs (OB), Vineyard Haven, West Tisbury, Chilmark, and Aquinnah. Ferries arrive in OB and Vineyard Haven. As described by Dandelion Chandelier, there are great activities in each town.
Expect a Welcoming Culture. You'll feel welcome and safe everywhere including on Circuit Ave, at Flying Horses, waiting in line at Back Door Donuts in OB, playing golf or tennis at Farm Neck or watching the sunset on Menemsha Beach. However, do not expect a predominantly Black town. Beyond the swoon of Black visitors in July/August, the island is not and does not feel predominantly Black. It simply respects and welcomes Black vacationers and homeowners.
BuyBlack™ and Enjoy the Black experience! Make sure to check out:
a. The Inkwell – In OB, the Inkwell is the name of the popular beach frequented by African Americans beginning in the late 19th century. You're likely to find Black folks enjoying the sun and each other!
b. The Polar Bears – For almost 80 years, the Polar Bears of Martha's Vineyard have met at the Inkwell at 7:30 AM from the 4th of July to Labor Day to swim and enjoy friendship. You can learn their history by visiting them or checking out their FB page HERE.
c. The pInkwell – A virtual and in-person beach party with a cause held on the Inkwell on the third Thursday in August where members of Alpha Kappa Alpha Sorority, Inc, family & friends come from all over the country to enjoy a summer celebration.
d. Martha's Vineyard African-American Film Festival – In it's 20th year, the MVAAFF continues to bring artists, directors, producers and thought leaders to showcase films and participate in the Color of Conversation to add some color to your conversation.
e. Cousen Rose Gallery – For almost 30 years, Zita Cousens has been featuring emerging and nationally known artists and authors with a backdrop of music, becoming a tradition in Oak Bluffs. Located on Circuit Ave, you can't visit the Vineyard without stopping by.
g. Union Chapel – An Inter-denominational church in OB, Union hosts a summer series of inspirational, largely Black, ministers and thought leaders from all over the country. Their Sunday morning services will inspire you. Doors open at 9 AM. Get there 8 AM to find a seat (usually standing room only) or live stream it from home.
The BankBlack and BuyBlack Movements were created to garner our spending power for good, as a form of activism. Even activists need a respite and a place to gather to strategize, which is why welcoming places like Martha's Vineyard are important.