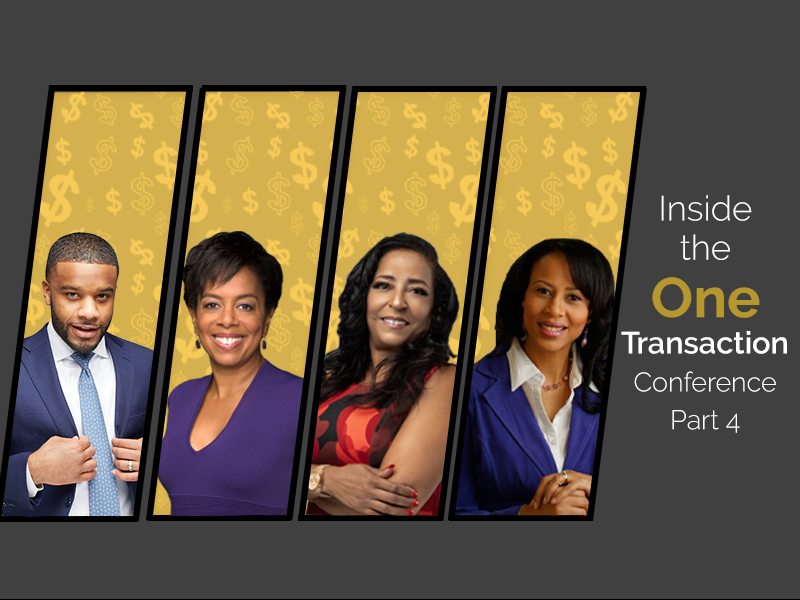 Inside The OneTransaction Conference 4
Michelle Singletary, Ross Mac, Sharon Epperson, and Lori Anne Douglass all stopped by our inaugural #OneTransaction Virtual Conference to drop some knowledge! Their continuous work to increase #FinancialLiteracy helps us close the #RacialWealthGap!You can check out their sessions HERE.
We expected nothing than the best from our distinguished speakers and they delivered in spades! Check out each speaker and their journey to #BlackExcellence below!
Michelle Singletary – Author & award-winning personal finance columnist for the Washington Post is nothing short of extraordinary. Her award-winning column, "The Color of Money," is carried in dozens of newspapers nationwide. She volunteers as the director of "Prosperity Partners Ministry," a financial program she founded at her church, in which people mentor others that have financial challenges. She's a revolutionary voice for financial independence and wealth generation.
Ross Mac – Ivy League educated hip-hop artist, entertainer, and entrepreneur makes it his mission to simplify the confusion of finance. He advocates for breaking generational narratives and building wealth by sending messages of positive encouragement for Black wealth. He provides insight regarding financial literacy through his social media presence. "Maconomics" is a platform he created to make people laugh while educating and informing them on how to attain financial freedom. In what he calls "getting to the bag", Ross discusses budgeting, raising generational wealth, improving credit scores and how to buy a house, all ways in which we can financially excel.
Sharon Epperson – Known for her role as Senior Personal Finance Correspondent for CNBC, Sharon has become one of the country's most recognizable financial reporters. She covers many aspects on how people manage, grow, and protect their money. Her work is recognized by several esteemed industry awards like "Best Personal Finance Experts of 2014." She is committed to improving financial literacy, particularly in underserved communities and is frequently featured at conferences and events for local and national organizations, colleges, and universities.
Lori Anne Douglass – Founding partner at Douglass Rademacher LLP; Lori Anne Douglass's practice focuses on estate planning and business succession planning. This includes the transfer of family-owned businesses, the establishment of private and public foundations and strategic planning to assist clients in maximizing wealth preservation. She left the New York County District Attorney's office to specialize her practice on serving under-served communities. After seeing there were no Black lawyers at an estate planning seminar, she decided to build a practice in this area. She now spends time encouraging people to develop an estate plan so we can pass on the generational #BlackWealth we build!
Our state-of the art OneTransaction Financial Conference is not one to miss. We doubled down on the amount of melanin and #BlackExcellence… and on #Juneteenth! Join the thousands who have watched our sessions to #BuildBlack for you and your family. Start HERE today!