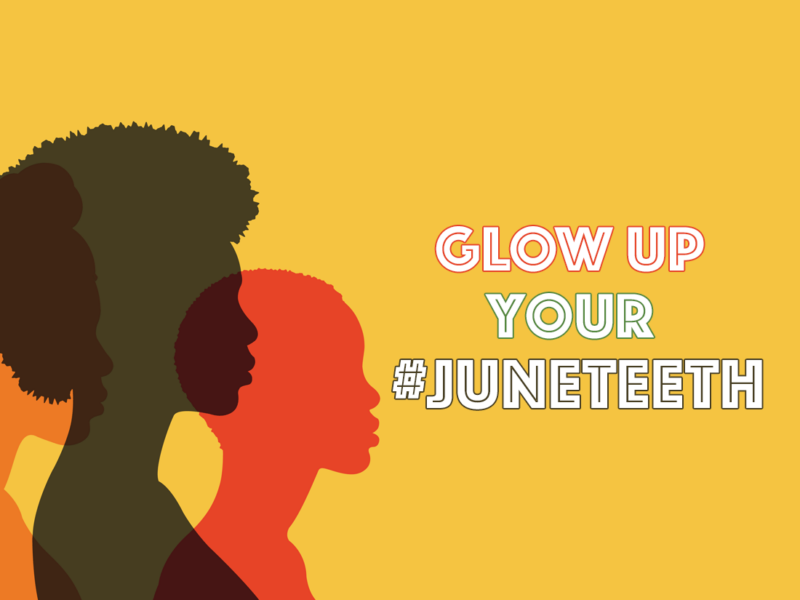 Glow up Your #Juneteenth
A year after the official recognition of #Juneteenth as a federal holiday, it's time to take our celebrations to the next level! Oh yes – we expect you to strut into the office and around the neighborhood announcing the power of the Juneteenth National Independence Day!
How you ask? As always, we're here to key you into some of the best ways to celebrate the power of melanin to uplift our community. See below the OneUnited Bank certified ways to celebrate Juneteenth.
Here are 5 ways to super charge your joy on Juneteenth:
Turn Up The Iconic Anthems: What would a gathering be without the ultimate summer playlist? June is African American Music Appreciation Month and there is no better time to get everyone together to party under the sun to our best hits. Bring the heat with new summer hits and take everyone back in time with some tasteful anthems like the Beyonce version of "Lift Every Voice and Sing" or "Where the Party At" by Jagged Edge Featuring Nelly are prime options. And of course, there's the all-time favorite and summer anthem Frankie Beverly and Maze, "Before I Let Go"!
Create a Juneteenth Jingle: Calling all creatives! Our community needs a Juneteenth jingle, and the opportunity is wide open! We also need a #OneUnitedJingle and you can win $5,000! Check out details HERE!
Movie Marathon Mania: Movie fanatics to the front, the popcorn is hot! Set up our night with Black-led films that explore the dynamics of our community like Spike Lee's "Do the Right Thing", but don't forget to choose films that center around #BlackJoy, our happiness and empowering narratives like "Hair Love".
Join Us on Facebook Live: That's right! We held a Juneteenth BankBlack Facebook Live on Thursday, June 16, 2022…and we're still there! Celebrate with us, give us your feedback in comments and we will respond!
Have a Block Party: Take some of our wonderful food to share with the community. No food gets left behind, not a single person leaves hungry! Partner with your neighbors to secure needed permits, coordinate supplies and spread the word. Come as you are, drop in for some food, mingle and network with new friends and connections! Everyone is invited and learn more about this special day.
Get into this food - it's yummy!
Plain and simple, there is no celebration without food. Check out just a couple of our favorites:
Chicken and sweet potato waffles
Curried potato salad
Collard greens
Cornbread
Brisket, chicken, ribs, and pork!
Brown butter peach cobbler
Once you have undergone your Juneteenth food journey, its only right to use this food to foster a sense of community. No one can refuse homemade food! Bring some of your best recipes to the office and share information on Juneteenth including who led our emancipation and why its significant for our community today. All over some killer BBQ, your colleagues will learn, and their stomachs will fall in love.
If you aren't the loud and proud type, we get it! It's hard being fabulous all the time. Our suggestion is to take some much-needed R&R, also known as rest and recovery… Yes, we are entitled to our rest AND our recovery!
Prepare your cucumbers, shea butter, coffee scrub (it better be Arabica), and draw your bath. Whip out your book (of course by a Black author), light the candles, and notify everyone you are very unavailable until further notice.
That's it! Take time to connect with friends, loved ones, and safeguard your peace. Turn up the tunes, create some jingles, queue up your favorite films, pull out books by Black authors for the kids, enjoy some of your favorite food, and continue, or start, your Juneteenth traditions!