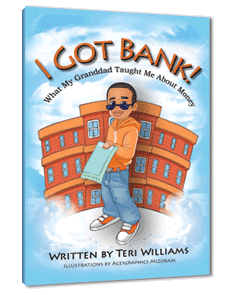 Winning Financial Literacy Essays
Two of a three part series.
OneUnited Bank announced its I Got Bank Essay Contest winners on August 31, 2011. The contest was designed to promote financial literacy for youth (ages 8 – 12). All the essays submitted were fabulous. We think you will agree.
Here is one of the three winning essays:
Jaidah Lindsey
11
Grade 5
Did you ever want to know the dos and don'ts of banking? In this presentation you will find out about financial literacy (that means understanding money). Like first of all how to start saving. You're never too old or young to start. If you're 1, or 5, or 11 like me, just save your allowances each week. Maybe you get $5 because you're 5 years old, or $11 dollars because you're 11 years old, try to save it all, or most of the money fast. Don't take anything out NO MATTER WHAT!!! If you need money fast maybe you could ask your parents if you could do some extra chores in the house to earn more money.
Don't, I repeat DON'T, go to quick check cashers! They basically steal your money. Say you borrow $500, when you're done paying them back it will be like you're paying $700 back or more. They make it easy because they only ask you to pay back a little at a time. That money can be saved in the bank for the future. If they give you a loan and you are under the age of 18 that is illegal and they could go to jail.
A loan is when someone lends you money, but you have to pay it back. If you can't pay off a loan or credit card you could end up with bad credit and that will make it hard for you to buy a house or get a student loan for school in the future. The repo man will come and take the car you bought away if you can't finish making the payments.
Let's talk about collateral. If you get a loan from the bank and you put your house for collateral and don't pay the loan they kick you out of your house and sell your house to get the money back.
You really shouldn't spend your money on things you really don't need. It's ok to buy something you want as a treat, but not all the time. You could donate money also. Donating means to give away money to a good cause because you want to.
Some places like check cashers take your money too. They charge a fee to cash your check, and adults use these places to pay their water and electricity and phone and cable bills. They charge a fee for bill paying too. A fee is when you have to pay extra money to use something. Like loans if you are late paying them you have to pay a fee. If you need money from a credit card use an ATM. ATM means Automatic Teller Machine. You can find them on the sidewalks or in the bank. A credit agency is an agency that keeps track of how much money you owe and they give you a credit score. A credit score is a number that tells the bank if you paid back your loans on time. If you need to put money somewhere (which you should) open up a bank account. Some banks needs at least $100 to open an account. Then you always have to have at least $100 in your account no matter what. I learned most of this from a great book called I Got Bank. I found it funny, really exciting, and it's educational. I loved this book.
The author did a really good job in writing this book to make it easy for kids to understand money and how to treat it.
This book inspired me to follow in the footsteps of Jazz Ellington. I wasn't sure how to explain everything that he did, but I thought it was important to know. In the book his grandfather was wise and helped him learn all of this, and I wish to have over $2000 saved in the bank one day really soon. Financial Literacy means to understand money, make it, save it, be smart about it, and understand how to share what you know so you could help others. I hope I helped you learn a little something today, but I am still learning too. Maybe someday you'll be reading my book.