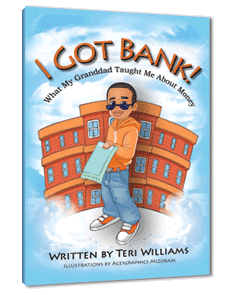 Winning Financial Literacy Essays
Three of a three part series.
OneUnited Bank announced its I Got Bank Essay Contest winners on August 31, 2011. The contest was designed to promote financial literacy for youth (ages 8 – 12). All the essays submitted were fabulous. We think you will agree.
Here is one of the three winning essays:
JORDAN A. HARTWAY
Age 10
I am Jordan Hartway an honor roll student at Columbus Africentric Early College. Saving money is important to me because when hard times come I will be able to get through them with ease. I can get money by getting it through allowance. I can earn money too. I can earn money by helping to do chores around the house and cutting hedges. My purpose for saving money is to pay for my college tuition. I also would like to use my saved money to build my own business and in this business I will sell robots because when I grow up I want to be a robotist. A robotist is someone who makes robots. My saved money will also help my business get sponsored.
 My goal is to be a multi millionaire by the age of 30. To reach that goal, I'll have to graduate from college with a degree, build my business, and start investing now. When you save money and invest doors will start opening you'll be able to buy a sturdy home get a great job with good money coming in and better yet you could own your own business and profit from that. According to the Teenvestor book that I have been reading a study of 4,309 families done by the U.S.  Federal Reserve found that minority families have a net worth of $16,400. While white families have a net worth of $94,900, a gap of $78,500. They state that there are social reasons why the wealth gap is so wide. One of the major contributions to this gap is the lack of minority participation in the stock market. I don't know if this type of investment is right for me because if it crashes I loose all of my earned money.
After reading the I Got Bank book, I like the idea that Jazz's grand father had about saving ALL of your allowance this was one of the first things I learned from this book. I also learned in order to save money you have to make tough decisions. For example his mom needed a new car, his sister wanted to buy concert tickets, and his brother wanted to buy everything.  Each time he said no and found creative ways to earn money and help his family like the car wash. In my family, my two brothers and I created a Christian dance video and sold it to family, friends, and teachers to earn money. We believe that God helps those who help themselves.
What I've learned from reading these three books I Got Bank, The Totally Awesome Money Book for Kids and the TeenVestor are how to save money, earn money and how to invest. In my opinion I say that you should start saving when you're young. The money book for kids has taught me something very important it said if you know exactly what you want you half way got it. From this point on I will save my money rather than spend it. The challenge for me now is earning more money and learning new ways of investing. In order to make my dreams come true of being a robotist. I have visited Morehouse twice now I am looking forward to attending Morehouse College after graduating high school.
Thank you OneUnited Bank for giving me a chance to win $1,000 and at the same time helping me to learn about investing and saving money.