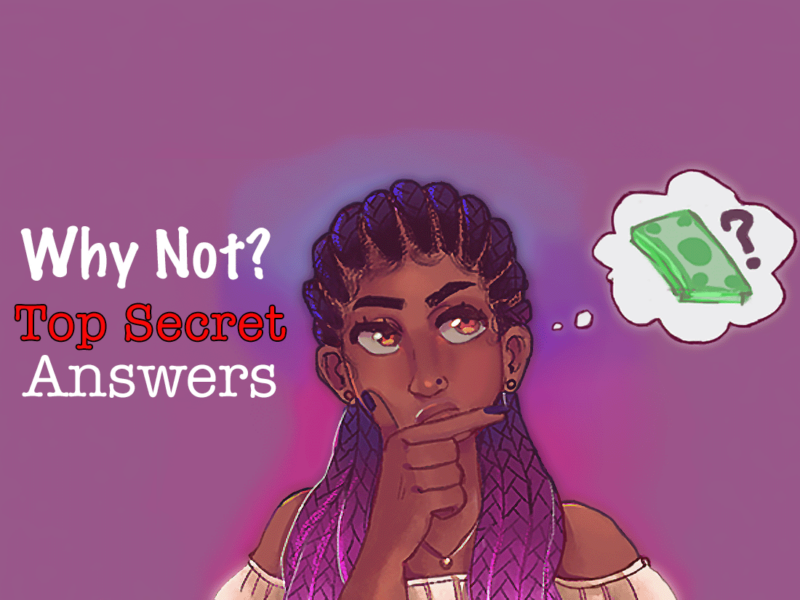 Why not? Top Secret Answers
Here are some frequently asked questions with top secret answers! Well, not really top secret, but difficult questions to answer in a quick sound bite or in "mixed company". Here we go!
Why don't you have more branches?
In 2006 – almost 20 years ago – we launched our digital platform. Today, we offer state-of-the-art technology, including 2-day early pay, money management, CashPlease and AutoSave. We also have over 40,000 surcharge free ATM locations nationwide including at Chase Bank and Citibank branches. OneUnited Bank is available nationwide because we decided to invest in technology rather than open more physical branches which can cost $250,000 to $500,000 per branch each year. You can now bank in the palm of your hand from anywhere in the U.S.A!
Why don't you offer youth accounts online?
Although children can receive a social security number at birth, most children have not worked or used their social security number to establish an "electronic identity". Therefore, we have not found an effective way to verify a youth's identity online. In addition, the Children's Online Privacy Protection Act (COPPA) imposes more stringent requirements to protect children's privacy.
While most parents are trying to teach their children good savings habits, some parents who have ChexSystems records use their children's identities to obtain bank accounts.
For these reasons, we do not currently offer youth accounts online, but we do offer a second chance checking account for people with ChexSystems records.
Why can't I get my money quicker when I transfer funds?
OneUnited Bank is an FDIC insured, full-service bank. Our Funds Transfer service uses the Automated Clearing House (ACH). These transactions take time. As an example, if you use electronic funds transfer (EFT) to move money from Bank A to Bank B, the funds are withdrawn from Bank A today and arrive at Bank B in 1-2 days. The transfer may take time, but it's secure.
When funds are "transferred" using fintechs such as CashApp or Venmo, the process seems quick, but the reality is that your funds have not really moved. They are still being held by CashApp, Venmo or other fintech apps until you or the person you are sending money to decide to transfer them into a bank account.
Why don't you open business accounts online?
Businesses are one of the highest sources of bank fraud. It is difficult to verify the credentials of a business and the true identity of its owners and signatories online.
A study found that fraud costs in 2021 increased 33% for larger banks, 18% for fintechs and 11% for smaller banks. Sixty percent of large banks have experienced identity theft fraud in 2021, up from 45% in 2019.
For these reasons, we do not currently offer business accounts online, but we're still searching for a solution.
Why don't you offer unsecured credit cards?
Given our focus on closing the racial wealth gap, we offer the UNITY Visa secured credit card program to help our community build or rebuild credit in a manageable manner. The program reports to all 3 major credit bureaus, we offer a fixed interest rate, and there's no minimum credit score required. There is an unmet need that UNITY Visa fills because very few banks offer a secured credit card programs.
There are many unsecured credit card programs offered by many large financial institutions. In other words, there is not an "unmet need" for a credit card program for people with great credit. For this reason, we do not currently offer an unsecured credit card program.
Why can't you payoff my secured card with my security deposit?
Our UNITY Visa secured card program is designed to help customers rebuild or build their credit with low monthly payments and a fixed interest rate. There are many benefits to having a secured credit card, instead of a pre-paid debit card, including we report to all 3 major credit bureaus and credit cards are accepted by some merchants that do not accept debit cards (such as car rental companies). In accepting the UNITY Visa Card, you must agree to pay off your balance before your security deposit can be returned. In other words, the program is not a prepaid debit card. This requirement is included in our UNITY Visa disclosures. Once you pay off your credit card balance, we will return your security deposit within 30 days.
We have become the largest Black owned bank and first Black owned digital bank in America because we listen to your feedback to improve our products and service delivery. Thanks!