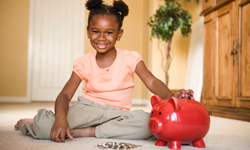 When Do Kids Need to Learn About Money?
Children are never too young to start learning about financial literacy. Understanding money at a young age can help kids set good savings habits that can last a lifetime. According to the Teens and Personal Finance survey from Junior Achievement/The Allstate Foundation, 32 percent of teenagers believe that their parents don't spend enough time talking to them about managing their money. This lack of a foundation can lead to poor spending habits and a misunderstanding of how their college educations will be paid for.
OneUnited Bank is committed to helping its members succeed financially, and the bank believes that starting to save at a young age is important. The bank offers options for younger people to start saving early. The Youth Membership is free and provides a free savings account to kids under age 18. This is a great way to start a life of saving. Stop into a branch or browse the OneUnited Bank website for more information.
OneUnited Bank also sponsors an annual financial literacy essay contest for children ages 8 through 12. The bank's annual I Got Bank essay contest awards $1,000 savings accounts to three winners. The contest encourages middle school students from across the country to read "I Got Bank!," a book written by Teri Williams, OneUnited Bank's president. The book helps urban youth learn about finances.
Many schools are including financial literacy as part of their curriculums. The U.S. Mint has developed fun and engaging financial education programs for students as young as second grade. Another exciting program is Junior Achievement, which helps to inspire and prepare young people to succeed in the global economy.
Time for Kids is another great resource for helping children build their financial literacy. It publishes a free monthly magazine that uses stories from celebrities' kids about their financial successes.
Kids love interactivity, and countless mobile apps allow them to play on their parents' phones to have fun while learning about money. "Today" lists five of the best of these apps.
It is important for kids to begin understanding money from an early age. Whether they learn about it in school, read a book, play a game or ask their parents, financial literacy is an often overlooked but includes very important lessons that kids can't afford to miss.