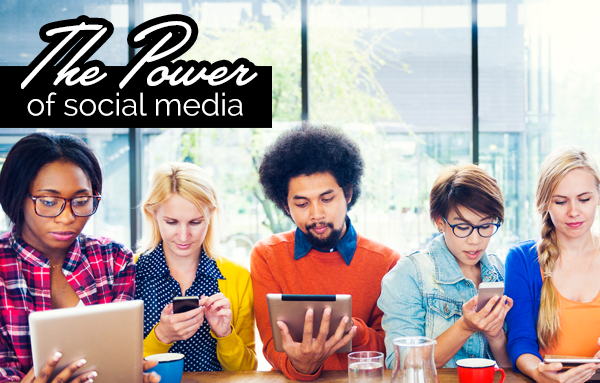 The Power of Social Media
For those of us who are active on social media…we understand its power. For those who are not…we need to bring them along so they can experience and contribute to the power of our voice.
So…share with your network!
The Power of Social Media
Social media is an important part of modern life. Through it, people all over the world connect, advocate, and interact with other people and events. Social media has a significant impact on our lives, and we will need it for many more years to come in order to affect change and have important conversations.
We are the power behind social media, and it can renew the power in us!
Social Media Inspires
Social media allows us to get out of our comfort zones and explore the world, and it also gives rise to transnational and global communication. This allows us to transport ourselves to a vast range of places, times, or movements for inspiration. Whether we are on a bus, in the city, or driving the rural back roads, social media has the power to take us to new places where we can feel inspired all over again. OneUnited Bank, as an example, seeks to inspire through social media.
Social Media Improves Communication
Through social media, we can reach out directly to the companies we do business with, our elected officials, family members, friends, and professional or advocacy services. While it is true that some social media sites limit the number of words we can say or what can be said, social media still allows us to speak much more and to many more people than we otherwise could. As the largest Black owned bank in the country, OneUnited knows the value of finding like-minded people, and social media helps us find people with similar goals and ambitions and then facilitates a conversation amongst them.
Social Media Excites Change
Social media also gives rise to grassroots efforts, national campaigns, and global initiatives…such as the #BankBlack and #BuyBlack movement! All this is possible because of passionate people. A single concern or cause can find a larger audience when it is given a platform on social media. This allows "smaller" voices to be heard alongside or in place of traditional media that has larger platforms. Social media gives everyone a platform, regardless of our access to resources.
Social Media Informs
Social media helps us stay informed. We no longer have to depend on typical, run-of-the-mill information streams. Instead, we can become informed citizens with access to the people who make the news, to national and international outlets, to global citizens, and more. Social media equips us all with new weapons of knowledge and enlightenment without censorship.
Social Media Motivates Social Justice
At OneUnited, one of our favorite uses for social media is its power to ignite and excite social justice and accountability. Social media gives users the power to expose hate, exploitation, racial injustices, crime, and more. Right now, we are experiencing one of the most important times for social justice. Exposing the truth and demanding action is possible because it brings everyone together for a similar cause, it holds officials and citizens responsible, and it demands a voice. Social media allows everyone to get involved to help bring justice to those who don't have a voice or just need support.
If you are a young millennial, a baby boomer, or a retiree, social media has the power to do all these things for you and more. You can find resources, find support, and stay connected without traveling long distances. Social media allows you to bank differently with a bank like you: OneUnited. We will help you with all your banking needs, give you advice about rebuilding your credit, and help you save to fund a dream that makes you feel powerful – all with the support of social media. Connect today!