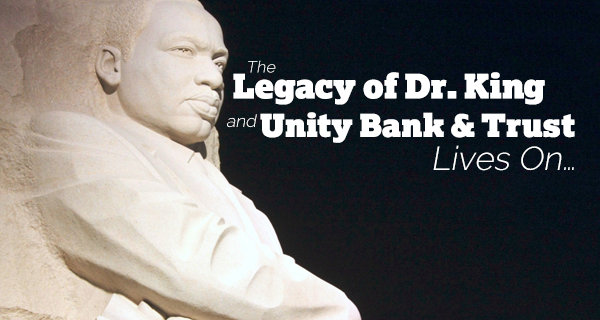 The Legacy of Dr. King and Unity Bank & Trust Lives On
Shortly after the death of Rev. Martin Luther King Jr., 50 years ago, the predecessor of OneUnited Bank, Unity Bank and Trust Company, was founded in Roxbury, Massachusetts. Today, we are the largest Black owned bank and first Black internet bank in the country. In honor of the late Dr. King, and his legacy and the visionary leaders who founded Unity Bank, we are inspired to reflect on our past and look to the future.
Unity Bank was founded in 1968, at a time when there were 14,500 commercial banks in the U.S. of which only 20 were Black controlled. Established to give equal economic opportunity to the Black residents of Roxbury and Dorchester, Massachusetts, Unity Bank embarked on this journey with the slogan, "The Bank with a Purpose!" It provided free seminars on consumer education, investments, credit and how banking works.
Unity Bank was conceived by John T. Hayden, a Black graduate of Harvard Business School and organized with the late Donald E. Sneed, Chairman and President, Marvin E. Gilmore, Vice President, and C. Bernard Fulp, Assistant Vice President and Chief Loan Officer. Mr. Fulp, who previously worked at two large banks in Boston and saw first-hand the discriminatory policies of banks including redlining stated, "Slum residents are eliminated solely on the basis of where they live. This drives those who can least afford it to finance companies and loan sharks who charge unreasonable interest." Unity Bank was founded to change all of that.
Over the past 50 years, the number of banks in the U.S. has declined from 14,500 to 6,700. Yet, OneUnited Bank continues the legacy of Unity Bank, including its mission to be "The Bank with a Purpose." We became the first Black interstate bank, expanding beyond Boston by acquiring banks in Miami and Los Angeles. We received a designation as a Community Development Financial Institution (CDFI) by the U.S. Department of Treasury and loaned over $2 billion to communities that are over 70% or more minority and low to moderate income including Roxbury, Dorchester, Liberty City, South Central and Compton.
We launched an internet bank in 2005 which allows us to bank anyone anywhere in the country with mobile banking and 30,000 surcharge free ATMs. We also built an exciting online community through social media. OneUnited Bank is "unapologetically Black." We inspired and continue to promote the #BankBlack and #BuyBlack movements, encouraging the Black community to recognize the power of our $1.2 trillion in annual spending to build generational wealth. We are proud to provide leadership and contribute vital resources to the Black community in an effort to maximize the power of "collective economics." We continue to focus on financial literacy and, importantly, advocate for economic and social justice including supporting #BlackLivesMatter.
After 50 years, the legacy of Dr. Martin Luther King Jr. lives on through the legacy of Unity Bank and Trust and the current work of OneUnited Bank. We are honored to carry the torch…and recognize the importance of passing the baton to #MakeBlackHistory NOW.
In memory of Donald Sneed (February 13, 1934 • December 15, 2017)