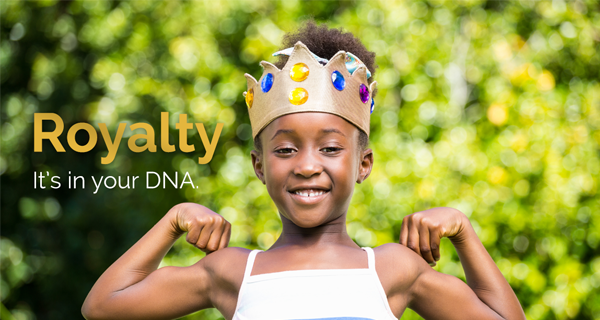 Royalty is in Our DNA!
They say successful African Dynasties are a myth. And we lost our strength when we were torn from our heritage.
Yet we know a new generation of Kings and Queens in America are claiming their thrones. From scientists to activists, from educators to entertainers.
Whether it's Aretha Franklin's "R-E-S-P-E-C-T" or Kendrick Lamar's DNA or Black Panther's Wakanda or the Queen of Soul (Aretha), King of Pop (Michael Jackson), King Kunta (Kendrik Lamar), Queen Bey (Beyoncé), King James (LeBron), Q.U.E.E.N. Janelle Monae and Erykah Badu and of course Dr. Martin Luther King (given a royal name at birth)…we're changing the world!
We celebrate the Kings and Queens noted in The Undefeated 44, the most influential Black Americans in history, including James Baldwin, novelist and playwright, Benjamin O. Davis Sr., first Black Army general, Charles Drew, researcher and surgeon, Malcom X, minister and civil rights activist, President Barack Obama, Harriet Tubman, abolitionist, and Madame C.J. Walker, entrepreneur and activist. Each of these leaders shook up the world!
We're one community that continues to beat the odds. And now we're focused on…our money! So, rise up new Kings and Queens and make Black history today.
It's time to unleash the King and Queen in you!
Get the Card today!
#BlackHistoryMonth   #MakeBlackHistory