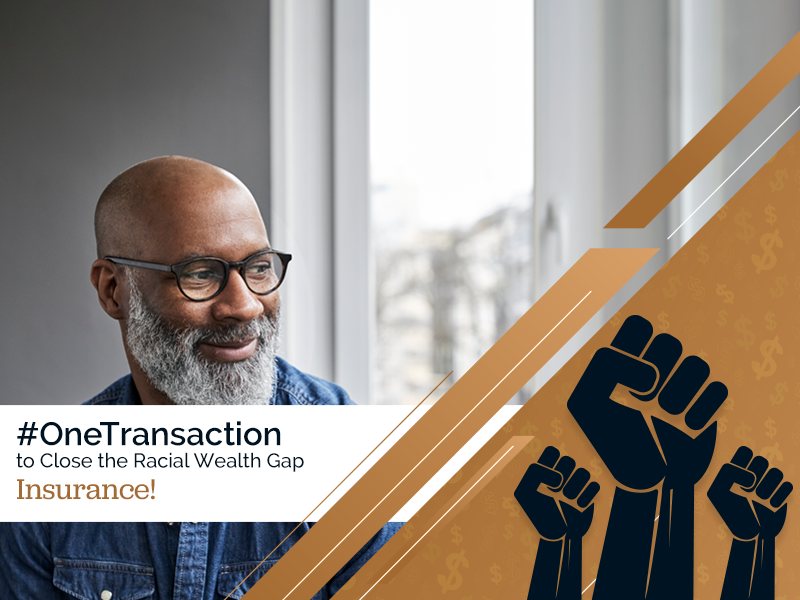 #OneTransaction, Insurance!
OneTransaction to Close the Racial Wealth Gap, Insurance
One of the least costly ways to create generational wealth is to have term life insurance.
According to Forbes "Survey Exposes Gaps in Black Ownership of Life Insurance", for years many Black Americans associated life insurance primarily with one thing: paying for burial expenses. Today, according to a recent study, 22% of Black Americans value life insurance to pass along generational wealth, compared to only 8% of white respondents. However, the median value of life insurance policies held by Black Americans is just $50,000, compared to $150,000 among whites. We're under-insured!
As the largest Black owned bank in America and first Black owned digital bank, we want you to focus on #OneTransaction to close the racial wealth gap and create generational wealth, which includes insurance.
How Much Life Insurance Do I Need?
A simple equation is:
Add up your financial obligations (such as income replacement if you pass away, a mortgage, other debts, children's college costs, etc.)
Subtract assets that your family could use for those expenses (such as savings, home equity, existing life insurance etc.)
The difference is your life insurance need (Many life insurance companies have calculators to help you determine your insurance need.)
Then add additional insurance to create generational wealth (you want to leave more than your life insurance need).
(Don't simply rely on life insurance from your job, which is typically not enough.)
What Type of Life Insurance Do I Need?
There two major types of life insurance:
Term life insurance: Pays a death benefit when the insured person dies during the term of the policy, which typically ranges from one year to 30 years. Term life is simpler and much less expensive than permanent life, but does not have any cash value, so you can't take a loan against the policy.
Permanent life insurance: Pays a death benefit whenever the insured person dies. The policy may also have cash value that you can access through a loan or withdrawal. Some say permanent life is simply term life with an investment vehicle attached that accumulates cash values. You must dig deeper to understand the investment vehicle to select a good option. Permanent life includes universal life and whole life insurance.
Consider at least having term life insurance to cover your insurance need plus additional insurance to create generational wealth. One of the least costly ways to create generational wealth is to have term life insurance.
What's the Price of Insurance Coverage?
Many people overestimate the cost of insurance, which varies based on several criteria, including age, gender, and health.
As an example, a 35-year-old man who's in excellent health and a non-smoker could pay around $23 a month for a 20-year, $500,000 policy. A 35-year-old woman could pay $20 a month for the same policy. A 45-year-old man could pay around $56/month. With term life insurance, the monthly expense does not change for the entire term. Life insurance cost is reasonable compared to the benefit.
If I Don't Use the Life Insurance (Don't Die During the Term), Isn't It A Waste of Money?
The simple answer is no, life insurance is not a waste of money, even if you don't use it. In fact, we hope you don't need it.
Life insurance coverage is cheaper when you least need it (when you're young and healthy). As you age, the cost increases. Locking in the cost today is less expensive than tomorrow. In addition, life insurance can create generational wealth in case of you unexpectedly pass away. If you live a long life, your #OneTransaction to create generational wealth may be buying a home or creating a profitable business. It's not either life insurance or a home purchase, it's both!
Here are 4 Steps to Get Started
Choose your beneficiaries for your life insurance.
Life insurance is paid to a beneficiary(ies). Life insurance beneficiaries can be individuals, such as a spouse or adult child, or entities, such as a trust. Life insurance proceeds are considered tax-free to the beneficiary and are not reported as gross income. However, any interest received or accrued is considered taxable and is reported as any other interest received.
If you have minor children, you may choose to establish a trust and name it as the beneficiary of your life insurance policy. If you were to pass away, the policy's death benefit would be paid to the trust. The trustee would then be charged with managing those assets according to the terms of the trust on behalf of its beneficiaries, i.e. your children.
Research life insurance options.
There are many companies waiting to sell you life insurance. Here are a few options to research:
Atlanta Life Insurance – the only Black owned life insurance company, founded over 100 years ago.
Subtract assets that your family could use for those expenses (such as savings, home equity, existing life insurance etc.)
Insurify – Insurify is an American insurance comparison shopping website headquartered in Cambridge, Massachusetts. It provides quick quotes from participating insurance companies.
National African American Insurance Association – (NAAIA) was organized to create a network among people of color and others employed in or affiliated with the insurance industry. Although it does not directly provide quotes, it's members may help you navigate your insurance options. Find a local chapter HERE.
Obtain life insurance now!
Remember the older you become, the higher the cost of life insurance. So, there's no time like the present. You can always increase the size of your policy or get a longer term. However, having life insurance to cover your insurance needs and create generational wealth is essential.
This summary is to get you started. Please check with a financial advisor, an attorney and family members and/or friends. Simply focus on getting this OneTransaction done to create generational wealth!
OneUnited Bank is not a financial advisor and recommends you discuss with your family and a financial advisor. All services are not offered by OneUnited Bank. To learn more visit
qqq.oneunited.com
.