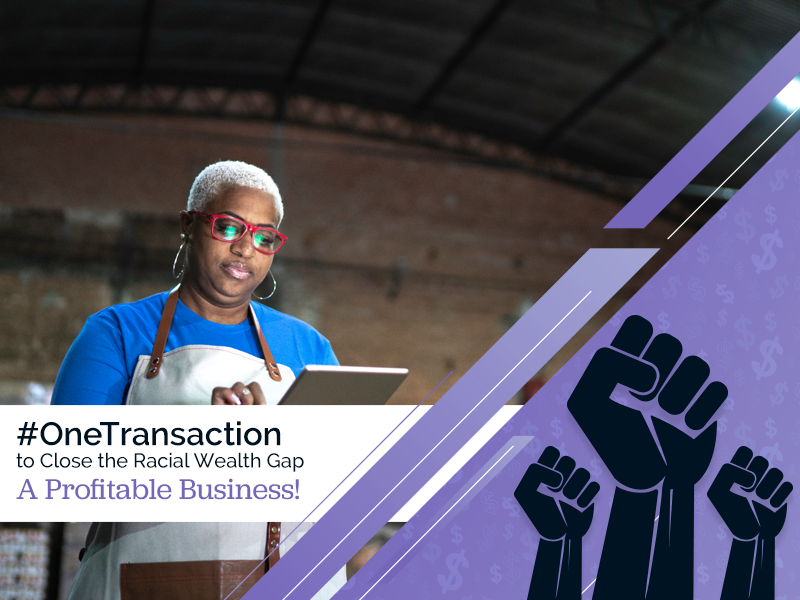 #OneTransaction, A Profitable Business
OneTransaction to Close the Racial Wealth Gap, A Profitable Business
According to Forbes, Black businesses have been at the intersection of civil rights and economic prosperity for generations. Since 2007, the number of companies owned by African-American women has grown by 164%, far outpacing their counterparts. Also, a 2018 survey found that the number of Black-owned businesses increased by 400% from 2017 to 2018, with the added effect of promoting the spending of money within the community. Yet 43% of Black owned business may not survive the COVID pandemic!
As the largest Black owned bank in America and first Black owned digital bank, we want you to focus on #OneTransaction to close the racial wealth gap and create generational wealth, which includes a profitable business.
Time to Pivot!
Despite the pandemic, the opportunities for Black owned businesses today are immense. The recent #BuyBlack and #BankBlack Movement has increased awareness and interest in Black owned businesses. There is also the internet and social media, which have increased the opportunity to move beyond brick-and-mortar businesses to online products and services. We simply need to pivot!
Here are 8 Steps to Get Started
Make sure you own your brand.
Many times, we do not take the necessary steps to secure the ownership of our company name or brand. Here are 3 steps to make sure you own you including trademark and domain name!
Hire an attorney and accountant.
Through the Paycheck Protection Program, we found many Black business are not correctly organized. We organize as a corporation (C Corp), when a Limited Liability Company (LLC) is better. We also do not have full documentation, including our Articles of Incorporation, financial statements, bank statements in our company's name and tax documents, including payroll documentation. To create generational wealth, you MUST have accurate documentation.
Measure the profitability of your business.
With accurate financial statements, you can assess your business profitability. You can also assess what steps you can take to improve your profitability including increasing sales or reducing cost. An accountant or simply a Quick Book type program can provide this invaluable information. Sometimes we minimize profitability to minimize taxes. However, to grow your business and create generational wealth, profitability is important.
Join your local Black Chamber of Commerce.
There are many resources available to help you grow your business or improve your profitability, including government contracts and technical assistance. Black businesses are not receiving our fair share of contracts. We do better when we're united. So, join your local Black Chamber of Commerce today, such as the Black Economic Council of Massachusetts (BECMA) in Boston or the Miami-Dade Chamber of Commerce (MDCC) in Miami! To find one in your community, visit the U.S. Black Chamber website HERE.
Create a business plan.
Whether your business in profitable or not, you need a business plan to help guide your decision making. You do not need an MBA or business degree to develop one. In fact, the business knowledge you gained from running your business is invaluable. There are online courses to help including Dr. Boyce Watkins' "The Black Business School" with most classes in the $99-$299 range. You can also check with your local Chamber of Commerce to find free technical assistance programs.
Seek loan funding.
Profitable growth can require funding such as a business loan. There are many banks and business lenders waiting to offer you a business loan. Do not be intimidated. You are in the driver's seat. We recommend you begin with your bank, which must abide by all government regulations to protect you from being scammed. There are also alternative business lenders such as the Miami Bayside Foundation or BBIF in Miami or Pacific Coast Regional in Los Angeles or Lendistry, a national Black owned small business lender. These alternative lenders have more flexible requirements and better terms than bank loans. To find an alternative business lender in your community, ask your local Black Chamber of Commerce. Do not search online because there are many "bad actors" providing predatory loans to businesses.
Seek equity capital.
Today, there are many more options for equity capital for Black businesses. As examples, Tabor in Seattle, Washington launched the Black Business Equity Fund in 2020 to combat the pandemic and systemic racism. The Foundation for Business Equity launched the Business Equity COVID-19 Emergency Fund to support Black and Latinx businesses in Massachusetts. The Oakland Black Business Fund provides capital to Black businesses in Oakland, California. And BLCK VC is seeking to increase diversity in venture capital, providing a link to venture capital financing. An important resource for information on equity capital in your community is your local Black Chamber of Commerce. To find one in your community, visit the U.S. Black Chamber website HERE.
This summary is to get you started. Please check with a financial advisor, an attorney and family members and/or friends. Simply focus on getting this OneTransaction done to create generational wealth!
OneUnited Bank is not a financial advisor and recommends you discuss with your family and a financial advisor. All services, including non-real estate secured business loans or equity capital, are not offered by OneUnited Bank. To learn more visit
www.oneunited.com/loans
.