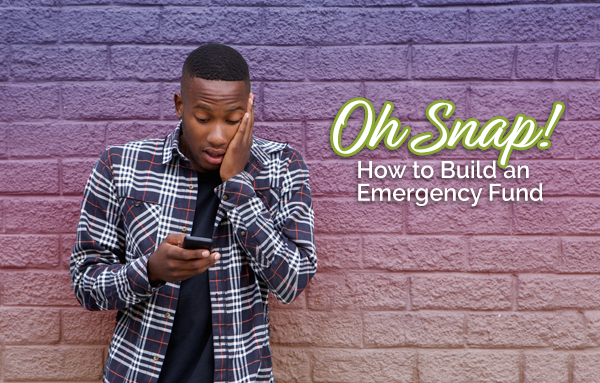 Oh Snap: How to Build an Emergency Fund
We've all heard how important it is to have an emergency fund in some easily-accessible account to cover our living expenses for three to eight months in case we lose our jobs or otherwise can't make our payments. Wait, hold up! Three to eight MONTHS of living expenses? That's a whole lot of money! For most of us, the idea of saving that much cash in for a rainy day fund seems so unrealistic that we don't even try – but you can do it –x it really is possible! Here's how.
Set Smaller, More Obtainable Goals
Even though the personal finance and get-out-of-debt experts like Dave Ramsey and Suze Orman preach the importance of having an emergency fund big enough to cover all of your normal living expenses for a long period of time – up to eight months even – you can't get there overnight. Knowing that it will forever to save up that much cash is overwhelming. Instead, make a smaller, more obtainable goal.
Decide you're going to set up an emergency fund with an achievable goal, like $300 or $1,000. This goal should be something you can reasonably accomplish. Maybe you don't have extra money lying around to get it started, and that's ok! Just set up a plan to save $10 or $100 a week, whatever you can comfortably afford, until you reach that initial emergency fund goal so you'll have money whenever life throws a curve ball.
Maybe you're sitting there thinking you don't even have an extra $10 a week to save. Okay, if that's true, you'll have to make a few lifestyle changes to "find" the money, and invest in yourself.
Finding Money to Save
If you're living paycheck to paycheck and running out of money before the bills are paid, you're going to have to take action to improve your situation. An emergency fund may seem out of reach, but if you have some money set aside you won't be thrown into a panic every time you need an unexpected car repair, have to pay for something at the kids' school, or need to take care of a medical bill.
Invest in your future by taking action to improve your financial situation right now. Start by calling your credit card companies and asking for a rate reduction or lower monthly payment. If you haven't done this before, you'll be surprised how easy it is to get a lower payment. Any money you save by making these calls can be stashed into your new emergency fund.
Instead of going to the grocery store without a plan, take ten minutes and plan out what you need for the week and then stick to it. You may save $10 a week or more on your groceries simply by cutting out unnecessary purchases. If you're getting take out or going to restaurants regularly – cut back a notch. Put the savings in your emergency fund.
Take a look at everything you pay on a monthly basis for potential areas to save. Maybe you can change your cell phone plan. Maybe you can carpool or use public transportation. Maybe you don't need satellite or cable tv and Netflix or Hulu. Just look closely and find a few places to trim costs and apply those savings to your emergency fund.
Make Your Savings Automatic
When you "find" that extra money in your budget you're going to be tempted to spend it on something more fun than saving in your emergency fund – so here's what you should do. Set up a UNITY Visa Savings Account at OneUnited Bank, and transfer your emergency fund savings automatically each week or month, so you aren't tempted to spend it.
Once the money is transferred – forget that it's there! Until you have an unexpected expense or emergency, that is. Then you can use it. That's what it's there for. Every time you use your emergency fund, just get right back to saving to replenish the funds.
Grow Your Emergency Fund
Once you reach your first goal of $300 or $1,000 (or whatever you decide), don't stop there! Set a new goal to increase your emergency fund at OneUnited. Wash, rinse, and repeat! Before you know it, you'll have several months of funds saved to support you in the event of an emergency.