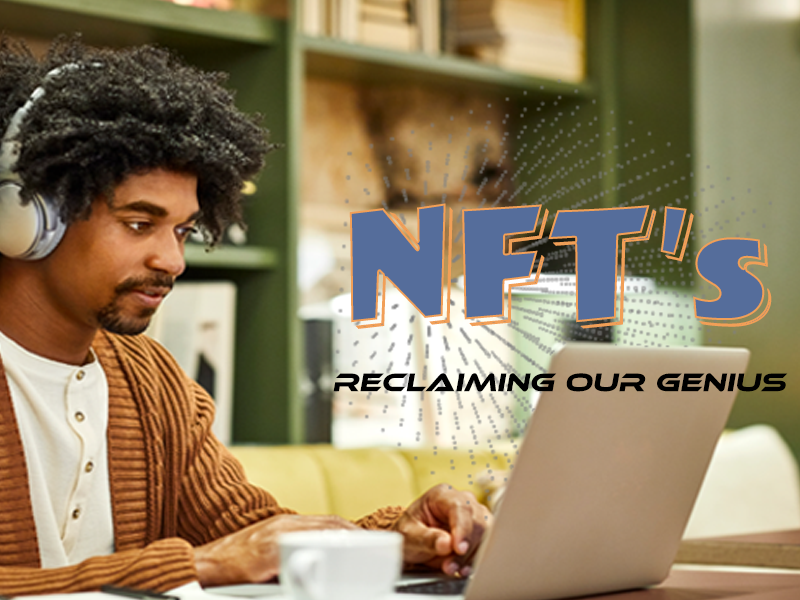 NFTs – Reclaiming Our Genius
In the past year there has been a massive rise in the popularity of NFTs. In March 2021, a Black digital creative named Vakseen sold a Micheal Jordan featured piece for 8 ETH, equivalent to about $16,800. However, NFTs are a very new type of technology, begging the questions of what they are, why they're essential, and how they benefit us as a community.
NFT stands for "Non-Fundgeable Token". This means a digital asset that cannot be replaced or replicated, being the only one of its kind. Digital assets can be anything from videos, GIFs, artwork, pictures, or even cryptokitties! NFTs operate on a blockchain called Ethereum, which ensures their originality and ownership. The NFT your receive is almost like a certificate for that digital asset. This new form of collecting, investing, adventuring on the edges of the internet, is popular because of the recent spike in demand as cryptocurrencies became a focus for the world during its physical lockdown. Because there is only one original version and one verified owner, it creates popularity and a rise in price for that specific digital asset. Some popular NFTs are the Nyan Cat, Crypto Punk #3100, Crossroads – each sold for between $580,000 – $7.6M.
NFTs are changing the way we buy and sell digital content on the internet. This new blockchain technology, powered by Ethereum, gives the power back to the creator. We now have access to artists of all kinds all over the world. This is a way in which you can choose to support one of your favorite creatives outside of the incumbent auction house system. Ethereum has a wide range of abilities that cater to artists. One of those features, and assumably the most popular, is dividends. If an artist sells a piece of work, he can also collect a portion of the profit from every time it was re-sold.Typically fine art collecting has been a sequestered privilege of the mega-rich, whereas now, everyone has the opportunity to leverage technology for inclusive participation in the art market.
How Do NFT's Affect the Black Community?
We all, and now the world, are aware that our community has experienced centuries of economic limitation by financial, governmental and various other institutions. Investors and developers like Cut Sheffield and Waka Flocka think that cryptocurrencies and their blockchain technologies are the future of "Black Economic Empowerment". Black artists and creators can now monetize their work in ways in which they were limited before. Today we see a wave of NFT platforms dedicated to artists of color with missions to help underrepresented artists showcase their work to a wide range of artists like never before. Some popular platforms are Harmony & Balance, Bitski, and Satoshi Art.
"Black creators create global internet culture… and now NFT are a way they can monetize them." – Cuy Sheffield, Visa VP of Crypto
NFTs have the potential to change the way we value and exchange a broad range of digital possessions. This is only the beginning of what is to come Just as the #BlackTikTokStrike movement lead by Black content creators fighting to secure our IP and remind fellow netizens that our work isn't free, we hope to see a necessary paywall to our digital creations through NFTs. We must reclaim our space and use these tools to position ourselves as the beneficiaries of our hard work. This fuels economic empowerment within the community. So #BuyBlack, digital and physical, so we can #BuildBlack together!