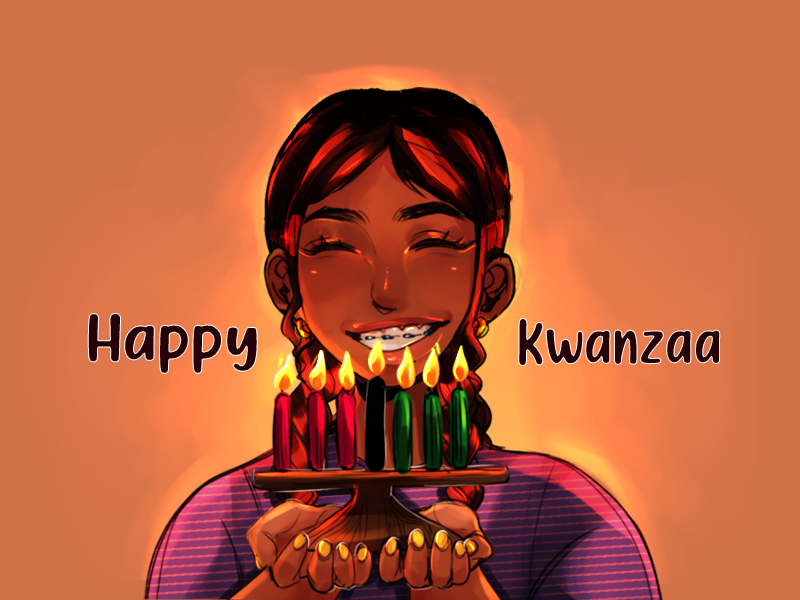 Kwanzaa is Our Holiday!
We celebrate Kwanzaa, a Pan-African holiday which celebrates Black family, community and culture. It was created in 1966 by Dr. Maulana Karenga, who chairs the African Studies department at California State University, Long Beach, to reinforce seven Principles for seven days, December 26–January 1.
Here are the 7 Principles of #Kwanzaa:
Umoja: Unity (December 26)
Umoja (oo-MO-jah), the first Principle, means Unity. It stresses the importance of togetherness. Unity means we are responsible for each other and must be vigilant about protecting the rights of our community. UNITY is our superpower! We are one!
Kujichagulia: Self-Determination (December 27)
Kujichagulia (koo-jee-chah-GOO-lee-ah) is to define, create and speak for ourselves. At OneUnited Bank, the largest Black-owned bank in America, we choose to define ourselves by our assets, including our $1.2 trillion in annual spending, rather than our challenges.
Ujima: Collective Work and Responsibility (December 28)
Ujima (oo-GEE-mah) reminds us of our obligation to our community. We must make our neighbors' issues our collective responsibility. By doing this, we can solve our struggles together. Each one, teach one.
Ujamaa: Collective Economics (December 29)
Ujamaa (oo-JAH-mah) teaches us to support one another and to build businesses that benefit our community. The #BuyBlack and #BankBlack Movements seek to exchange money within our community first, to provide jobs, close the racial wealth gap and build community wealth.
Nia: Purpose (December 30)
Nia (NEE-ah) means purpose. It encourages us to look within ourselves to find our purpose in life. It also focuses us on the #OneTransaction we need to close the racial wealth gap in 2021 for our family, and goals that are beneficial not only to ourselves, but also our community.
Kuumba: Creativity (December 31)
When we light the sixth candle of Kwanzaa for Kuumba (koo-OOM-bah), we celebrate how we channel our creative energies to build and preserve a strong community. There are many artists who use their creative energy to dance, paint, create music and write books, blogs and columns that feed our souls and provide a vision of the world through our lens. The world does not move without Black creativity!
Imani: Faith (January 1)
Imani (ee-MAH-nee), or faith, focuses us on honoring our spiritual traditions. It helps us strive for a more perfect life, for ourselves and for humankind. It gives meaning to the phrase, "When they go low, we go high!" Imani is about faith in God and ourselves – which is the best concluding Principle for Kwanzaa.
Let's support one another. Let's build our collective resources and strengthen ourselves so that we can make a difference in our community in 2021.
Happy Kwanzaa! Harambee, Harambee, Harambee, Harambee, Harambee, Harambee, Harambee!