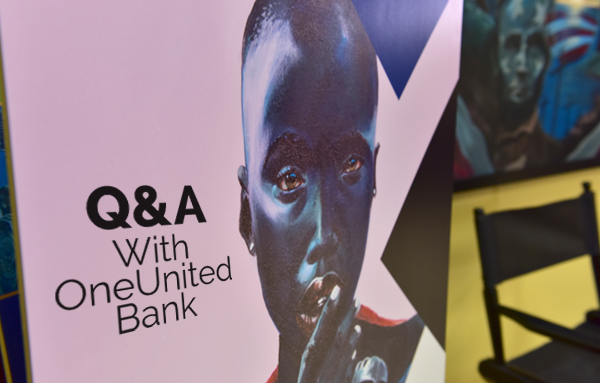 Is OneUnited Bank Really Black Owned…and Other Important Questions! (Q&A Series)
In case you missed our #BankBlack Live event where we answered your questions about OneUnited Bank and the #BankBlack Movement, we will be answering your questions in a series of blog articles. Here is the first of the Q&A series.
#1. Are you really Black owned? Who are the owners?
Yes, OneUnited Bank is really Black owned. Our majority owners are our Chairman & Chief Executive Officer, Kevin Cohee and our President & Chief Operating Officer, Teri Williams. All of our board of directors and management team, the majority of which are African American, also own shares in OneUnited Bank. The FDIC has a website for Minority Depository Institutions or MDIs that provides information on Black banks including Black owned banks. Please visit the FDIC website for more information and to confirm our status as Black owned. Please visit our website for more information on OneUnited Bank by clicking here.
#2. If you are regulated by the FDIC, how can you be Black owned?
Yes, OneUnited Bank is an FDIC insured and regulated financial institution, which means your deposits are insured up to $250,000. However, the deposit insurance and regulations by the FDIC are unrelated to who owns the bank. Many people do not know that banks are owned by people, similar to other businesses. Some banks are publicly held, while many are privately owned. OneUnited Bank is a privately owned, Black owned bank.
#3. Will #BankBlack improve the Black wealth gap?
Yes! OneUnited Bank encourages everyone to not only move your money, but to also move your mind to do more business with Black owned businesses. So…to not only #BankBlack, but also #BuyBlack. Black owned banks are more likely to lend to Black people and Black owned businesses are more likely to hire Black people, have offices and provide services in Black communities. By circulating more dollars in the Black community and practicing collective economics, we can build wealth.
According to the FDIC MDI Research Study 2001-2013, minority depository institutions (MDIs) are significantly more likely to lend in low to moderate income (LMI) communities and to minority borrowers than non-MDIs. According to the FDIC study, "African American MDIs appear to be particularly successful in their mission of serving African American borrowers." The study shows that the share of home loans made to Black borrowers in 2011 was 67 percent for Black banks, compared to less than 1 percent for other community banks in that year. All funds deposited in OneUnited Bank are used for loans.
Maggie Anderson, activist and author of "Our Black Year" has written extensively about her family's experience buying exclusively from Black owned businesses for one year. She taught us that we can increase jobs in the Black community by simply spending more of our dollars with Black owned businesses that are more likely to hire Black people. According to Maggie, if we increased the percentage of our $1.2 trillion in annual spending to Black owned businesses from 2% to 10%, we could generate over 1 million jobs.
#4. How do I open an account online?
Opening an account with OneUnited Bank online is easy and only takes 10 minutes. Simply visit our website and complete the online application. We will transfer your money electronically to fund your deposit. You will need several items during this application process:
Your social security number
Your credit or debit card or U.S. checking or savings account to fund your new account(s)
A valid unexpired driver's license or state ID
If applying for a joint account, you will need the Secondary Applicant's name, social security number, state identification information, and date of birth
Our website is safe and secure. OneUnited Bank uses state-of-the-art security technology to protect your data and transmissions over the internet.

#5. Are you going to open more branches?
We do not have plans to open more branches at this time. Depending on the location, operating a bank branch can cost $250,000 to $500,000 per year. OneUnited Bank made the decision to invest in technology, such as online banking, and bill pay and offer lower fees and higher rates on deposits to benefit our customers rather than open more branches.
Technology is changing the way many people use banking services. For instance, today the volume of electronic payments like bill pay and debit or credit cards, exceeds the volume of checks. Many people are accessing their accounts to check their balance, transfer funds or pay bills using mobile banking on their cell phones rather than coming into a bank branch. As an example of how technology is changing the world, you may remember Blockbuster, which had thousands of stores that were replaced by online streaming services like Netflix or Hulu. We hope you will give our online banking services a chance. We are confident that you will enjoy the experience and continue to #BankBlack.
Stay tuned for more blog articles where we will answer more of your questions. Hope this has been helpful!