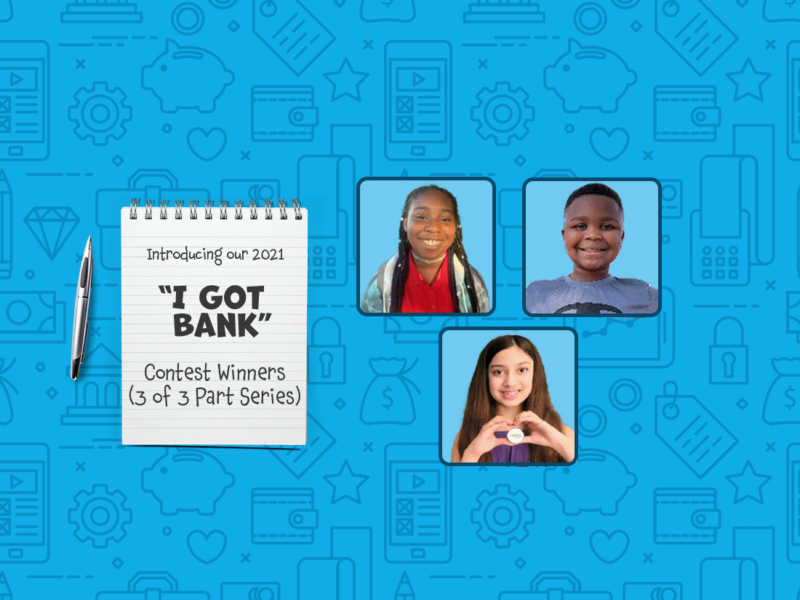 Introducing OUR 2021 I GOT BANK CONTEST WINNERS (3 OF 3 PART SERIES)
If they can win $1,000…so can your child or grandchild! Let's start our children on developing great money habits! Start today at www.oneunited.com!
Introducing our 12th Annual "I Got Bank!" Financial Literacy Contest. Your child can win $1,000 savings account at www.oneunited.com/book! To support you, we're offering a free "I Got Bank" E-Book until June 30, 2022. To participate, simply visit  www.oneunited.com/book!
Here are three of our 2021 winners (in alphabetical order) and their essays and art: Kylie Thurman, 9, Miami, FL, Shalena Prakash, 11, Duarte, CA, Christian Turner, 9, Los Angeles, CA.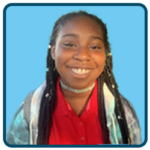 Kylie Thurman, 9, Miami, FL
Kylie, we're so proud you are learning how money works. And yes, sometimes when you use a card, you can lose track of how much you're spending. Keep saving. Congratulations!
I've never understood how money works. I thought you go to the atm, press buttons and you have money.
I started off with a large cupcake piggy bank. Constantly begging my mother to break it open, after putting a few coins in. After about a year she allowed me to open it if I put the money in the bank. I had about 425 dollars saved. It began to grow because we sold my old clothes and shoes and did chores. Now I felt it was time to spend my money. I earned it so I wanted to spend it.
One day we went to the movies with my best friend Allen. He paid for his movie tickets with his own bank card. I felt so jealous and asked my mom for my own card, so I didn't have to worry about losing money. But Allen swiped his card about 10 times that day. Expensive popcorn, a large drink and ice cream he didn't even finish. Seem like such a waste. I felt just like Jazz did on his way to the bank passing by the barbershop and the Chinese restaurant, it wasn't things I needed at the moment.
Maybe I should hold off on getting a bank card. I'm glad Jazz decided to help other kids learn the importance of saving. When I bragged to my 16-year-old cousin about how much money I had in my account my cousin was in shock because she didn't have her own.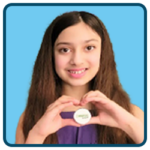 Shalena Prakash, 11, Duarte, CA
Shalena, you are learning important business lessons including the 4 Ps of marketing: product, price, place, promotion! We're proud that you are also learning the importance of dividing your money into wants, needs and savings. Congratulations!
Many important lessons can be learned from the book, "I Got Banks," such as how to set up a business.
This spring I planned on setting up an art store with my siblings. The first day we set up in front of a store, but we did not sell anything. We realized there were not enough people walking by. The second day there were many people walking by, but no one bought anything. We realized that our potential customers were hiking and did not want to buy a bulky and fragile glass jar, and many were not carrying their wallets.
On the third day we set up our store in a busy park at an intersection with many people walking by. We got so many customers. Our store pretty much sold out. Our store would not nearly have done so well if it weren't for the lessons we learned from the book, "I Got Bank."
Once I earned my money, I realized I needed to know how to properly invest it. I learned that I should divide my earnings into 3 piles. One pile for "wants," one pile for "needs," and one pile for "savings". I also know that you should make quality products that people will want to buy. So, we made wooden eggs with flower designs for Easter. We also painted glass jars with flowers and sold them as vases or lanterns. Finally, we made hand woven ribbon leis.
I also learned that I should make products that make more than the supplies cost in order to make a profit margin. We made a profit of $390 which was divided into each of the 3 piles. It was such a great, profitable, learning process that my siblings and I decided to do it many more times.
I have lots of fun selling my homemade products, but I wouldn't know how to take care of the money if I hadn't learned so much from the book, "I Got Bank."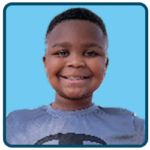 Christian Turner, 9, Los Angeles, CA
Great essay Christian! We are proud that you are learning the importance of savings, giving to people in need and managing your future credit score. Congratulations!
When I read "I Got Bank", I was impressed by the amount of money that Jazz saved by the time he was ten years old in a savings account. Being 9 years old, I have saved $500 of birthday and Christmas money so far.
Earlier this year, I told my parents that I wanted an Oculus Quest 2 with add-ons, and I wanted to spend my own money to buy it. But when I read this book, I learned that I should continue to save my money, and that I should have a savings account. My parents and I have talked about opening a savings account for me to continue saving my money so that it will be safe, and not get lost or stolen.
My new goal is to start earning an allowance each week like Jazz and donate some of my money to children in need and to homeless shelters. I think I can still save my money and be helpful to people in need.
I am looking forward to finally opening my own savings account this summer, and I hope that I can continue to save money like Jazz.
Another lesson that I learned from "I Got Bank", is that if you don't pay a loan on time, the bank can send a person to repossess the item that you borrowed money to buy. Jazz's brother got his car repossessed because he did not have enough money to pay the bank for the loan he needed to buy his car. When I asked my parents about the mortgage that they have on our house, and if they pay that loan on time, they said that they do. They taught me that if they do not make their payments on time, we would lose our house.
When I'm old enough to purchase my own house or car, I would like to be able to pay for them without borrowing money from the bank. But if I have to borrow money like my parents and Jazz's brother, I will make sure that I have enough money to pay back the loan on time.
Minor edits made in the essays.