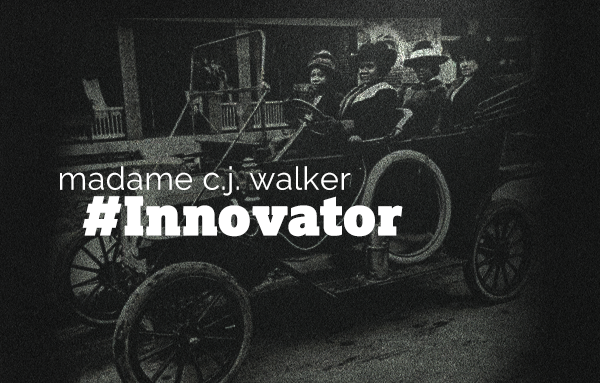 Innovators in Our Space: Madame CJ Walker
When we hear about the history of direct sales and self-made millionaires, we often hear stories of inspiring women like Mrs. Albee, the first Avon Lady, or Mary Kay Ash of Mary Kay Cosmetics fame. There is another woman in Black history, however, whose amazing entrepreneurial journey is historical, inspiring and worth knowing. Her name was Madame CJ Walker, and she was one of the first Black female millionaires in America.
Early Beginnings
Madam CJ Walker was born Sarah Breedlove. She was the daughter of sharecroppers who left her orphaned at age six. By twenty-two Sarah was already a widow with a two-year-old daughter. She worked as a laundress and cook like many women of her time and moved to St. Louis where some of her brothers lived. She enrolled her daughter A'Lelia in school there and continued laboring through life. By the age of 35, Sarah began losing her hair and wondered how she would support her daughter as manual labor grew increasingly difficult.
Sarah sought treatment for her hair loss, which was most likely caused by the lack of indoor plumbing, infrequent washing, and lice. At the 1905 World's Fair, Sarah came across Annie Turnbo, a businesswoman and entrepreneur who sold hair care products. Sarah enjoyed the products so much that she became a local agent in order to begin selling them herself.
Madam CJ Walker Is Born
Sarah remarried a man named Charles Joseph Walker, also known as CJ. After their marriage, she began using the name Madam CJ Walker. She and her new husband relocated to Denver where she invested $1.25 into creating her own hair care products. Madame CJ Walker was famous for more than her "magic potion" for Black hair. She was a savvy marketer, and we can learn a lot from her experiences, particularly in the direct sales or entrepreneurial fields. She used herself as a model and advertised her products in independent Black newspapers. She also sold her products door-to-door, at fairs, and at church events. Her products were marketed specifically to Black women and focused on their unique beauty product needs. She built what we would now consider a lifestyle brand around her products, using her own face on every special product seal.
Building a Business
By 1910, Mrs. Walker had invested $10,000 of her own money into the business as it was nearly impossible for a Black woman to get other backers or bank loans. She began growing the business at a state-of-the-art factory in Indianapolis where she created products and trained new agents who loved her hair care system, also known as the "Walker System." The number of "Walker Agents" soon grew to over 40,000, and they successfully demonstrated and sold her products to countless women. Madam Walker paid her agents commission and helped many women like herself rise from poverty.
Like many direct sales companies today, Madam CJ Walker's business established recognition, rewards systems, and incentives for agents. She organized the National Negro Cosmetics Manufacturers Association as a way to empower these women and give them a sense of belonging. She sought to help her agents reach their full potential, always making sure their appearance and attitudes reflected a high standard of Black excellence and refinement. She also worked to promote female talent by offering bonuses and prizes and making sure her company only appointed a female president. She strongly believed in supporting her community and was invested in helping these women make money.
Madam CJ Walker taught us all a lesson in supporting our communities and each other. She showed us the benefits and reasons to invest in ourselves and in one another and the importance of building Black wealth, supporting Black entrepreneurship and Black owned banks. We can do the same by taking the #BankBlack Challenge with a savings account, checking account, and other financial products from OneUnited Bank.