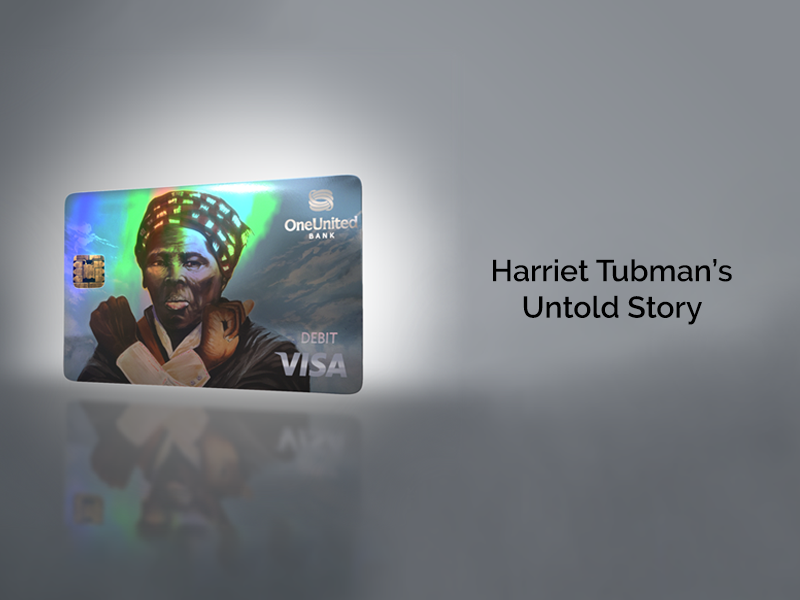 Harriet Tubman's Economic Empowerment Legacy
Recently the OneUnited Bank limited-edition Harriet Tubman Debit Card went viral. The Bank commissioned internationally acclaimed African American artist Addonis Parker to design the card. Art at its best evokes passionate emotions. And some simply do not like the card design, which we respect. Going forward, however, we would like to expand the conversation to focus on Black economic empowerment.
Harriet Tubman understood the necessity of economic empowerment for security. Many know that she was an abolitionist and not only escaped slavery, but made nineteen missions to bring 300 others, including family and friends, to freedom.
What many may not know, is that Harriet Tubman bought her home in 1851 in Auburn, New York, for $1,200 to provide a safe place for her family. The Harriet Tubman Home still exists today. She also bought 25 acres around her property with a mortgage in 1896 at auction for $1,450. The economic empowerment legacy of Harriet Tubman has yet to be told.
Having witnessed the indefinite delay of Harriet Tubman on the $20 bill, OneUnited Bank introduced the Harriet Tubman Card to commemorate this cultural icon. Since the launch of the card, visits to our website have increased 3-fold and new accounts have increased 10-fold. The Harriet Tubman Debit Card is the #1 choice of our new customers. We appreciate the support. However, we firmly believe that elevating the conversation from a critique of the card design to a deeper understanding of the economic empowerment example set by Harriet Tubman, brings us one step closer to closing the racial wealth gap.
Data from the Federal Reserve Board's Survey of Consumer Finances for 2016 indicate that Black families' median and mean net worth is less than 15 percent of White families, at $17,600 and $138,200 respectively. Closing the racial wealth gap will not be easy. According to a study by Darrick Hamilton and Sandy Darity, this staggering disparity can only be eliminated if America adopts bold national policies that address the long-standing consequences of slavery, the Jim Crow years that followed, and ongoing racism and discrimination that exist in our society today.
We also believe that banks must engage the Black community in new and innovative ways, which is why we support the #BankBlack Movement. As the largest Black-owned bank, we are focused on offering products and services to better meet the needs of our community. We offer BankBlack Early Pay to pay customers with direct deposit up to 2 days early. We offer second chance checking for people with ChexSystems records. We offer a cash rewards referral program and free online financial literacy at www.oneunited.com/learn. We offer UNITY Visa, a secured credit card to help people rebuild credit. We offer financial literacy programs including a home buyers' fair to help our community achieve homeownership. We're currently engaged in the Billion Dollar Challenge with Karen Hunter to become the first billion dollar Black bank. We recently held a town hall on Sirius Radio Urban View to discuss the #1619Project. Finally, we offer many unapologetically Black card designs, beyond the Harriet Tubman Card, to represent Black economic empowerment and to celebrate our culture.
The team at OneUnited Bank both laughed and cringed at the funny memes reacting to the Harriet Tubman Debit Card. Yet, if the social media outpour expands our audience and ignites a larger conversation about Black economic empowerment, then the jibes were totally worth it.