If they can win $1,000…so can your child or grandchild! Let's start our children on developing great money habits! Start today at www.oneunited.com!
Introducing our 12th Annual "I Got Bank!" Financial Literacy Contest. Your child can win $1,000 savings account at www.oneunited.com! To support you, we're offering a free "I Got Bank" E-Book until June 30, 2022. To participate, simply visit www.oneunited.com!
Here are three of our 2021 winners (in alphabetical order) and their essays and art: Jackson Lennox, 12, Sunrise, FL, Aziza McKay, 10, Dorchester, MA, Ada Nazneen, 10, Rocklin, CA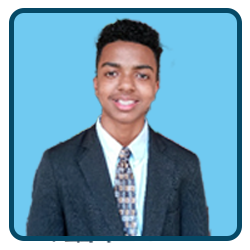 Jackson Lennox, 12, Sunrise, FL
Jackson, you are well on your way to building wealth. In addition to savings, you also understand the importance of technology by taking a PowerPoint Certification course. Congratulations!
What can you do with a lot of money? You could save up all your money or you can buy something nice for yourself. The book "I Got Bank!" can help children or even adults make smart financial decisions when they've got money on their hands.
There are a few things I learned in this book which are to save up money and put it in a savings account. When putting money in a savings account you can gain interest. Interest is extra money for having money in a savings account which sounds amazing. Next thing is that you could do tasks such as washing cars, mowing lawns, or even as simple as walking dogs to earn money.
Also, I learned you should be careful when taking out loans because if you don't pay them back, in time you may get a bad credit score. You should always have a budget when going shopping or buying anything in general, so you can have some leftover money that you're able to save.
The book also teaches not to bounce checks or else you will get a ChexSystems record which is bad. I also learned about money laundering and that is not a good thing to do since you will end up in jail or maybe even prison. These are choices that you could make to earn/spend or save up your money.
What I learned in "I Got Bank!" is that I'm able to put the money that I earned from doing a job/task into a savings account which can earn me extra money. For example, when I washed my dad's car and I put the money into a savings account. Also, I have been investing in stocks with the money I get from helping my aunt with small chores around her house. I'm also able to invest in money that I earn from my family for doing online educational assignments, such as taking a Microsoft PowerPoint Certification course. And I will be sure to pay back my loans in time to get a good credit score. Having a good credit score and saved up money in the future with allow me to buy a house or a car one day. I also will earn hard-earned money instead of money laundering, so I won't end up in jail. Whenever my family and I go shopping I need to make sure we have a budget on how much we spend at the store so we can have money left over for savings. The things I learned in the book I could use in my own life and will certainly help me to make financial decisions both present and in my future.
In conclusion this book "I Got Bank!" teaches how to manage your money and informs you about what to do and what not to do. Kids and adults of all ages could use these ways in their own lives.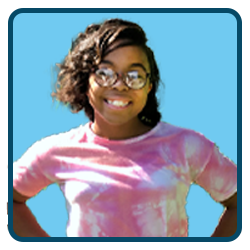 Aziza McKay, 10, Dorchester, MA
We agree Aziza, you never know what might happen, so adding to a savings account is necessary. We're proud that you are learning about money and savings at such a young age. Congratulations!
Do you want to learn about money, banks, and saving? In I Got Bank, Teri Williams teaches about personal money management. Managing a bank account is important because you have to keep track of money, and a savings plan is necessary too. Someday I will buy a house because I have learned to save.
Banks are safe for saving and managing money. In the book, Jazz says to Marquis, "No! Not a CD like a record. A certificate of deposit, which is a bank account that lets you keep the same rate…" It is clear that a CD is one way to save. You cannot spend it, and its interest rate stays stable. But you earn more money.
It is important to have a savings plan because money will stop growing if you do not. Marquis tells Jazz about a new savings plan, "a GAP account: Granddad Allowance Plan account … getting an allowance the same as your age and saving it …" We should all do this because you never know what might happen, so adding to a savings account is necessary.
A bank account is necessary because saving is challenging. I like spending, so a bank will prevent me from losing money. I have a bank account, opened by my parents, so that I could learn to manage money. Just like Marquis in the book, I have learned to manage my bank account and interest. In conclusion, a bank account is vital because we all need to manage our money well.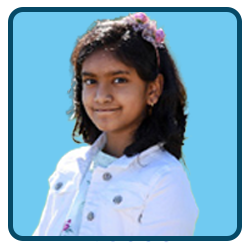 Ada Nazneen, 10, Rocklin, CA
Great essay Ada! Your scarf business sounds fabulous. We're proud you are learning about starting a business and the importance of savings. Congratulations!
I Got Bank! In this interesting book, "I Got Bank", I learned how to save money and not waste it. In the book, I learned that you should save money to help you in your future as Jazz has been doing.
When I read that Jackson was spending more than he had, I learned not to use more money than I have with checks. Jasmine in the book took out a one hundred fifty-dollar loan and had to pay back the same amount with interest. She didn't even have any way to pay back the loan! I learned that later in life if I ever need to take a loan, that I must have a way to pay them back.
I like to crochet, knit, sew, and draw, so my dad suggested that I should make 25 scarves so I can sell them on Nextdoor. He said that I should sell each scarf for $10. I thought about this and told him that if each scarf costs $4 then I will be spending $100. I would make $250 if my sale was successful, meaning that I would be having a profit of $150. My dad replied that I was correct.
"I Got Bank" is a very interesting book to read. When Jazz finally realized that you should save some money and donate some money, I realized that you should save most of your money, but you should also spend some money on the things that are truly important.
Minor edits made in the essays.