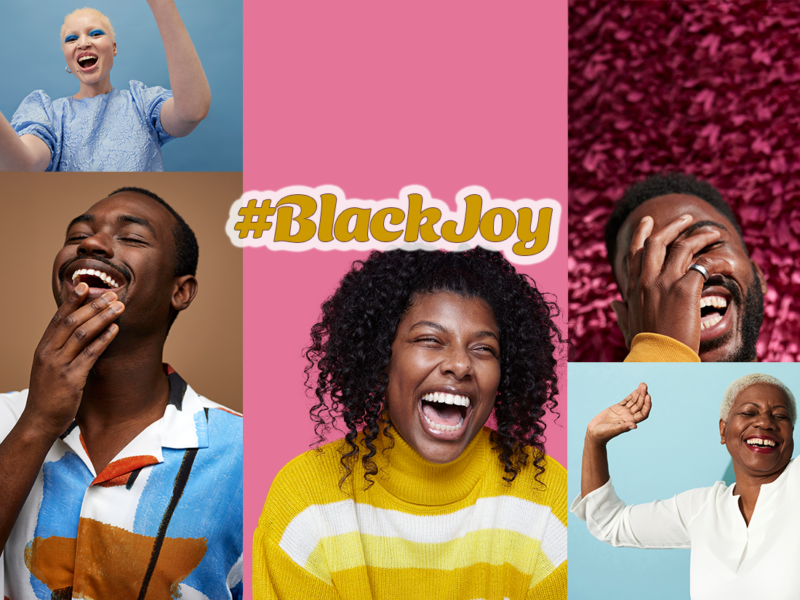 #BlackJoy 4 Black History Month
Black joy is unlike any other. It rips through the clouds of injustice.It beams in the face of inequality. It blazes against the walls of modern-day slavery. If you aren't familiar with #BlackJoy, it's time to get acquainted!
From the media to stories written about us, but not by us, our experience is often misrepresented or shown through a very narrow window. This window is one pane-usually defined by struggle-in the wondrous stained-glass masterpiece called The Black Experience. Each pane of our experience reveals just how immensely wealthy we are in the joy of being Black!
For so long, the world only knew stereotypes—the singular Black character tropes overwhelmingly prevalent in the media. We have read this chapter and its characterization of Blackness long enough. It's time to explore our own stories and do our own storytelling.
As the nation's largest Black-owned bank, we aim to shift the negative narrative attached to our community by injecting joy into the dialogue. Let's look at what the other chapters have in store.
Safeguard Your Excellence
Our excellence must be contextualized by the structural barriers we face in order to rise. Often, when we have risen to the highest peaks, we face extraordinary levels of scrutiny. In these instances, we must turn to each other to find reprieve and perspective. Preserve your joy for those who will understand and respect your accomplishments.
We get to choose what excellence looks like for us. It's not anyone else's to define nor the crown in their power to bestow. There is joy in defining what excellence looks like for us!
Unique, That's What You Are!
We are no monolith. Across the United States and the world at large, we live very distinct, unique lives. We pursue careers in various sectors, dive into different passions, travel to different parts of the world…The list goes on and on.
Breathing comfortably through how we experience and express our Blackness can feel like an endless battle for air. Navigating spaces where we are sparsely represented feels like advocating for our community while also defending our individuality.
We face strong expectations of who we are, and policing on what we can and cannot do. We constantly defy and reform expectations. What matters is that when we are alone, we release ourselves from the shackles of others and build our own definitions of Blackness.
In our experience, several things do hold true and are nearly universal. These are subjects of our chat forums, dedicated meme pages, and late-night conversations. Our beauty regimens, navigating micro-aggressions, and our frustrations.
Out of these commonalities, we build community and share our cultural, emotional, and financial experiences. When we are denied positive representation, we decide to celebrate, support, and uplift our culture.
Around the world, we wish you an amazing, unapologetically joyful Black History Month. #BlackJoy #BankBlack
We continue to address the violence against Black bodies and the systemic, racial barriers surrounding our experience. However, more and more, we are choosing JOY! Black joy is radical. Black joy is freedom. Black joy is focusing on our happiness even in the pain.