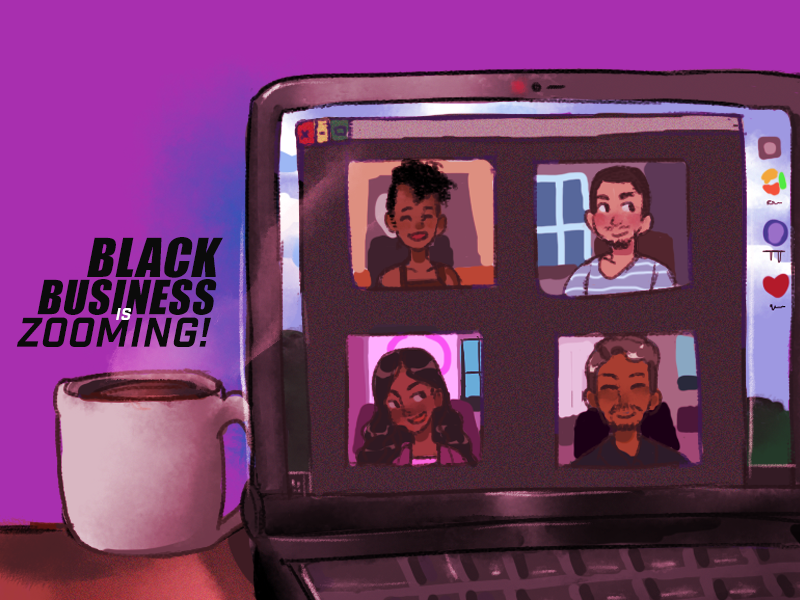 Black Business is Zooming!
Despite the dire warnings of how the COVID-19 pandemic is impacting the Black community, Black business is zooming! We have a long history of progressing in the face of adversity because we know how to play the back game to win!
Here are 4 ways Black-owned businesses are zooming in the face of COVID-19 and how you can engage and support them:
Zoom, Instagram Live, YouTube, Facebook Live, podcasts, you name it! Black businesses, artists, influencers and entertainers are changing the game. We're providing news we can use and nurturing a sense of community on different media platforms, all while we social distance in our homes. Here's a few that you can follow #FortheCulture:
DJ Nice – Club Quarantine on Instagram. Simply follow him and join his live parties on Saturday nights! You may catch Michelle Obama or Angela Rye or any number of amazing celebrities on DNice's "virtual dance floor".
Revolt TV and BET Town Halls – Black television media is covering the impact of COVID-19 on our community.
We're still identifying ways to convert online streaming into revenue streams, which will be important to our future success.
We're also using mobile banking and taking advantage of the SBA Paycheck Protection Program, which is a way to secure an online business loan that can covert into a grant. According to Bloomberg, 70% of Black owned businesses are self-funded, 23% receive funds from family and friends and 11% tap 401K plans. Very few receive outside capital. PPP is an opportunity for outside funding.
You can support Black businesses by taking advantage of their online offerings.
You can "like" and follow Black businesses, which helps you stay on top of anything new and helps their social media ratings. And you can share special events and announcements with your friends and followers to generate buzz for the business.
WE'RE GETTING POSITIVE REVIEWS
According to Inc. Magazine, 84% of people trust online reviews just as much as they trust word of mouth reviews from their friends?
So, take the time to write a testimonial about your POSITIVE experience with a Black business that they can feature on their website. You can also offer a POSITIVE review on review boards like the Better Business Bureau (BBB), Yelp and Google.
Black businesses have a long history of progressing in the face of adversity. According to the Brookings Institute, as an example, minority and women owned businesses added 1.8 million jobs from 2007 to 2012, while firms owned by white males lost 800,000 jobs, and firms equally owned by white men and women lost another 1.6 million jobs. Minority businesses led the job recovery after the Great Recession.
If you want to help Black-owned businesses make history, let others know how amazing they are and encourage everyone to #BuyBlack and #BankBlack. Use these 4 easy ways to showcase Black excellence and share our greatness with the world!