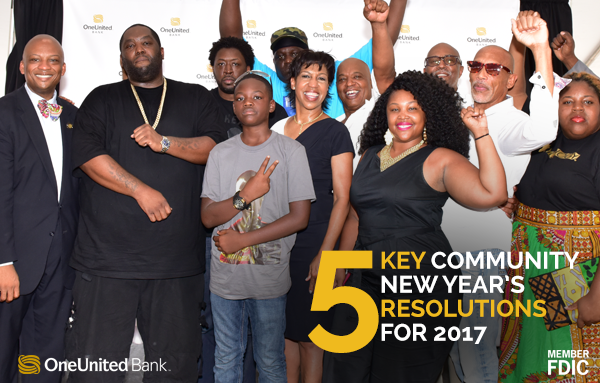 5 Key Community New Year's Resolutions for 2017
Yes, we're all considering New Year's resolutions such as finding inner peace, improving our health, getting our finances in order…to name a few. How about some community-wide New Year's Resolutions? Here are 5 New Year's Resolutions for 2017 with the fifth being the most important:
#1 New Year's Resolution: #StayWoke
According to Fusion, the first notable use of "Woke" is the 2008 Erykah Badu song "Master Teacher." In it, Badu sings about a world with racial equality before urging listeners to "stay woke" – stop dreaming and confront racial injustice in reality.
Yes, we all need to #StayWoke. Rather than putting our heads in the sand or not acting when confronted with injustice, we need to find ways to engage, both share and receive information and to contribute to just causes.
OneUnited Bank shares uplifting stories that are happening in our community to offset the negativity of the mainstream press. We also seek to enhance our financial literacy. We hope you follow us on social media and share our information.
#2 New Year's Resolution: #BankBlack
"After decades of celebrating the achievements of the civil rights movement, thought leaders in black communities across America are beginning to reach a consensus," says Michael A. Grant, President of the National Bankers Association in BlackEnterprise.com. "The more we circulate our dollars within our own community, the more opportunities we create and the more wealth we can accumulate that can be transferred to future generations," Michael A. Grant added.
Opening accounts in Black banks, or to #BankBlack, is a great first step. FDIC statistics show that Black banks are significantly more likely to loan to Black people and more likely to lend in low to moderate income communities than non-Black community banks and national banks.
At OneUnited Bank, the largest Black owned bank in the country, we encourage everyone to take the #BankBlack Challenge by opening a savings account. Deposits, which are FDIC insured, are used for loans to support community development. Yes, #BlackMoneyMatters!
#3 New Year's Resolution: #BuyBlack
Maggie Anderson, activist and author of "Our Black Year" has written extensively about her family's experience buying exclusively from Black owned businesses for one year. She taught us that we can increase jobs in the Black community by simply spending more of our dollars with Black owned businesses that are more likely to hire Black people. According to Maggie, if we increased the percentage of our $1.2 trillion in annual spending to Black owned businesses from 2% to 10%, we could generate over 1 million jobs.
OneUnited Bank shares information of Black owned businesses to make it easier to find them and to #BuyBlack. The good news is that you don't have to be Black to participate!
#4 New Year's Resolution: Support #BlackLivesMatter
"Whenever you end up with a cop shooting somebody or killing somebody, say, in Baltimore, in a Ferguson or a Chicago, everybody jumps up and down at that moment. But see, there were five things that happened before that that made that likely in the first place." Ta-Nehisi Coates (DemocracyNow.org)
The movements and leaders of yesteryear are idolized today, but faced skepticism, divisiveness and backlash during their time. Let's learn from our mistakes. The #BlackLivesMatter Movement has already increased our awareness of racial injustice, which is helping to make our laws and policing more just. But #BlackLivesMatter needs our support because any movement needs resources.
So contribute to Black Lives Matter today! If all of us contribute something, we could continue to build on the legacy of the civil rights movement.
Supporting Black Lives Matter is not exclusionary to the fact that all lives matter, but is a call to consciousness and action that bear witness to and amends aged systems (like policing) of anti-Black racism. OneUnited Bank supports #BlackLivesMatter and looks forward to building on the foundation created by its founders.
#5 New Year's Resolution: Trust and Build Trust
Yes…we have made a lot of progress, but there is more work to be done. We must continue to trust and build trust within our community and across communities.
Many Black owned businesses have stayed in business because they have learned they need to be twice as good. We are more likely to offer services that support the Black community and more likely to hire employees from the community. In fact, we like to say…our ice is colder!
In 2017, let's trust each other and start to do business together. Let's #BankBlack and #BuyBlack! Let's share our positive experiences, while also holding ourselves accountable when we fall short. Let's recognize that we have businesses within our community that offer products and services to meet our needs…if we will only trust ourselves. We are the ones we've been waiting for!