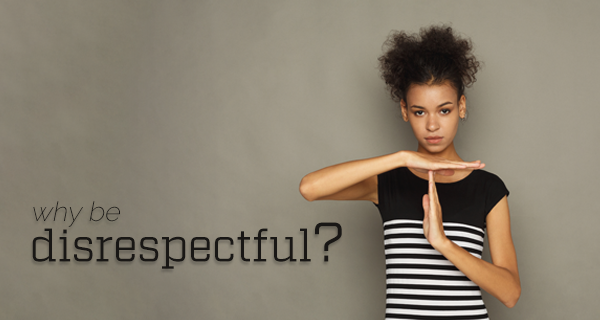 Why Be Disrespectful?
Periodically we receive critical comments about our social media posts. These comments can be respectful, but sometimes are not. We always respectfully disagree.
We use social media to promote collective economics to use our resources more purposefully and advocate for social justice. We strongly believe the #BankBlack and #BuyBlack Movement will uplift the Black community, and importantly America, to achieve a more equitable union. However, this will not be accomplished through a "clap back" or even further, a disrespectful response to those who disagree, even those who disrespectfully disagree. Why be disrespectful?
Here are our respectful responses to six critical comments:
1. What if I said #BankWhite? #BankBlack is racist.
We respectfully disagree. There are currently only 19 Black banks in America out of over 5,500 financial institutions. The reality is that the vast majority of banks are white owned and the vast majority of Americans bank with white owned institutions. That is the norm. In addition, the history of banking, from financing slavery to Jim Crow, redlining and predatory lending, has created barriers for the Black community to build wealth, sometimes systemically and intentionally.
We promote the #BankBlack Movement to show that we can overcome the historical challenges that the Black community has faced with financial institutions including redlining, subprime loans and other predatory practices. We hope to rebuild trust and be a source of pride. Many of our customers say that for the first time they are experiencing joyful banking. Some of our elderly customers say they have never been in a bank before joining OneUnited while many of our millennial customers say they enjoy the freedom and convenience of our online and mobile banking platforms. As a customer of OneUnited Bank, you can help us overcome a history of disenfranchisement and your support – as an ally – is important.
2. #BankBlack is discriminatory.
We respectfully disagree. We serve everyone and need everyone's support, regardless of race, religion, ethnicity, gender, sexual orientation, etc. You do not have to be Black to #BankBlack. We are an Equal Housing Lender, an Equal Opportunity Employer and we have diverse customers, employees and supporters. We say we're the largest Black-owned bank to show that we can overcome the historical challenges that the Black community has faced with financial institutions. We hope to rebuild trust and be a source of pride. Some financial institutions have a history of discriminatory practices. To the contrary, OneUnited Bank does not discriminate.
3. #BankBlack is unpatriotic.
We respectfully disagree. The #BankBlack movement is part progress (collective economics) and part protest of discriminatory (banking) practices. We believe social justice movements including #BlackLivesMatter and #TakeAKnee are, in fact, patriotic. We strongly believe in the U.S. Constitution including the First Amendment, which is why we support the ACLU. We believe the right to peacefully join with fellow citizens in protest against discriminatory practices is critical to a functioning democracy, at the core of the First Amendment and necessary to form a more perfect union.
4. Black banks, including OneUnited Bank, offer poor service.
We respectfully disagree. We survey our customers daily and achieve an average rating from thousands of responses of 4 out of 5, with 5 being outstanding. That said, we welcome ALL feedback including complaints or comments from customers when we fall short. We use these comments to improve our service delivery. We even reach out to all customers who rate us 1 or 2 to learn how we can better meet their needs. We also work on improving our BBB and YELP ratings by reaching out to customers who use those online tools, even though they represent only a fraction (less than 300) of customer feedback.
Moreover, the Bank's online and mobile banking platforms have become an integral part of servicing our customers' personal and business banking needs in a convenient and reliable manner. Customers can easily access their accounts to pay their bills, make transfers and so much more. We hope that you will give us an opportunity to meet your banking needs. We are confident you will be happy with our service.
5. #BankBlack is risky.
We respectfully disagree. OneUnited Bank is a federally insured (FDIC) depository institution. We are regulated and must abide by all consumer banking laws. Deposits are insured up to $250,000…and as we always say, your deposit is still your money. You can move it at any time. The institution is well capitalized by all regulatory standards because it's our fiduciary responsibility to manage the bank in a safe and sound manner. You can check our website (www.oneunited.com) or the FDIC website (www.fdic.gov) for more information.
We also encourage everyone to not only move your money, but also move your mind to do more business and trust Black owned businesses.
6. #BankBlack is offensive.
Not to us, or many people, but we respect your opinion. So here's how you can stop us from appearing in your newsfeed. Simply take the following steps:
A. Click the three-dots button in the upper right corner of our post.
B. Click "Hide Ad" if you want to see fewer posts in the future.
C. If you choose to hide our post, Facebook will ask you to explain your reason. You can mark the post as irrelevant, misleading/offensive, or as one that's been chasing you for too long.
We hope you find our responses helpful. We will continue to respectfully respond to all comments. However, we will also ban individuals who are offensive, use offensive language and/or offend our employees, customers and/or community.
And…of course…our supporters and customers may clap back to disrespectful comments…which is truly (and wonderfully) beyond our control!