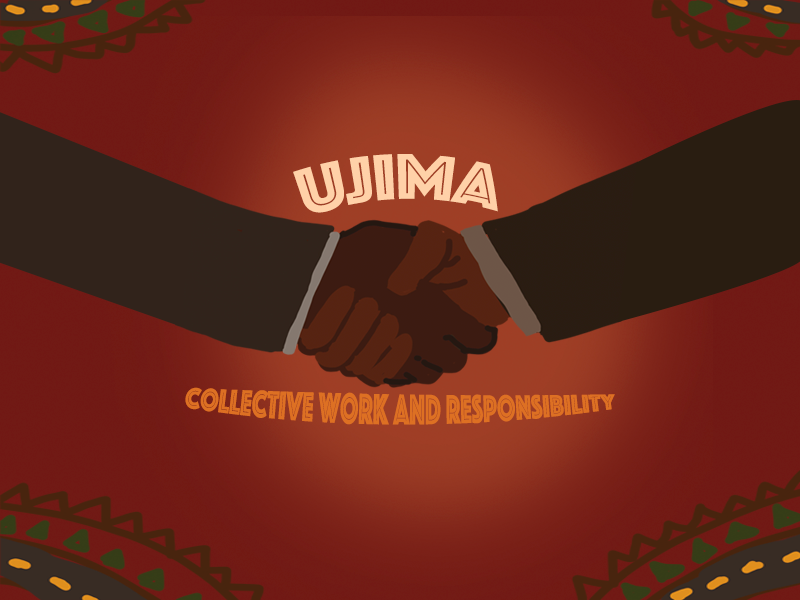 Ujima, The Third Principle of Kwanzaa
We devote the third day of Kwanzaa to Ujima – the principle of collective work and responsibility.
Lighting the Third Candle
We light the green candle on the day of Ujima. Once the flame is lit, the glow of this candle symbolizes a flicker that means that we are collectively responsible for our achievements as well as our setbacks. We must build and maintain our community together and make our brothers' and sisters' problems our problems and solve them together. Yes… to whom much is given, much is expected.
Collective Work
Celebrate Ujima by finding a project you and your loved ones can work on together. It can be anything. Maybe your porch needs painting, or your family needs to remodel a bedroom. Or how about that project in your backyard you've been talking about for years? Home improvement projects are great options that could use some teamwork.
Or… have the kids divvy up their chores. If you make it a fun thing to do together, maybe they'll see how collective work makes life easier. It's a rewarding feeling to finish a project and share the credit with loved ones.
Collective Responsibility
Okay, so now that you and your family have done some work together, it's time to extend that goodwill into your community to help someone else.
You can start by looking out for your neighbors… maybe that means checking on the elderly during a winter storm to make sure they're safe or volunteering for a local nonprofit organization. We are responsible for each other and we can solve a lot of problems – big or small – by working together.
We support collective work and responsibility at OneUnited Bank, which is an integral part of the #BankBlack Movement. As an example, we partner with nonprofits, such as the NAACP and the Urban League, to provide financial literacy workshops to mature workers, young professionals and first time homebuyers. Our managers volunteer and teach these workshops. We give annually to nonprofit organizations to support their work. We also have our OneCommunity Program where employees receive time off for volunteering for nonprofit organizations of their choice. And we recognize employees who have volunteered the most hours with an annual celebration.
Our collective work and responsibility is also to support wealth building in our community. We help people rebuild their credit with our UNITY Visa Secured Card – or the Comeback Card and finance affordable housing in Miami, Boston and Los Angeles with our home and commercial real estate loan programs. Over 70% of our loans are to finance housing in low to moderate-income communities which are largely Black and Hispanic… compared to only 27% for other banks. We also encourage savings. If you start an automatic savings plan, as an example, and put away extra money each month that you'd otherwise spend, you'll build up funds to buy a new home, complete a home renovation project or contribute to a nonprofit organization.
It's up to all of us to practice collective work and responsibility and build a financially strong community together. We are the ones we've been waiting for.