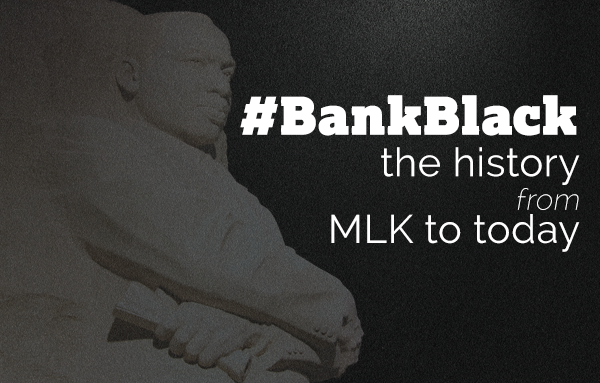 The History of #BankBlack: From MLK to Today
We remember and celebrate the great Martin Luther King, Jr. on the third Monday of January, just after what would have been his 88th birthday. MLK, one of the most prominent and influential people in Black history, was assassinated nearly 50 years ago on April 4, 1968. King was a leader of the civil rights movement, which fought segregation and advanced the rights of African Americans. One of the most unique and inspiring things about Martin Luther King, Jr. was his use of non-violent tactics; his open communication and eloquence lead to peaceful protests, marches, and sit-ins.
Origins of Banking-In
The day before his assassination, MLK gave a speech, "I've Been to the Mountaintop", in Memphis, Tennessee calling for Black Americans to reconsider where they do their banking. He urged listeners to move their money from downtown banks to Tri-State, a Black owned bank in Memphis and encouraged them to switch to Black owned insurance agencies as well. "These are some practical things that we can do," he said. "We begin the process of building a greater economic base. And at the same time, we are putting pressure where it really hurts." The goal of the "banking-in" movement was to foster growth and unity in the community by investing in it, much like today's shop small, shop local movement. Invest your dollars where it will make the most impact on you and the people in your community.
Resurgence of Banking at Black Owned Banks
Nearly 50 years later, there are fewer than Black owned banks in the country. While the bank-in movement may not have fully caught on when Martin Luther King, Jr. gave his speech, it has gained traction in the last year thanks to rapper Killer Mike. In the summer of 2016, Killer Mike challenged Americans to open accounts at Black owned banks. The rapper challenged the Black community to move their money into Black owned banks, starting with $100 into a savings account. If one million people were to do that, there would be $100 million invested in Black owned banks. The goal is to give these banks the ability to provide more home and business loans to Black families and minorities within their own communities.
#BankBlack Movement
The largest Black owned bank, OneUnited Bank, has launched the #BankBlack Challenge. Moving Black money from big institutions to Black owned institutions is just as important now as it was in the 60's. With the predatory lending crisis tainting the financial landscape over the past 10 years, the Black community continues to feel the negative impact. People who were already discriminated against in the banking industry are further victimized by payday lenders with 400% interest loans. This #BankBlack movement is a way to do something for ourselves and our community and to fight back against these practices. It's a way to get the Black community to form relationships with Black banks and work with lenders who understand the needs of our community. Most importantly, it's a way to achieve MLK's goal of improving financial literacy in the Black community.
OneUnited Bank is spreading the same message Martin Luther King, Jr. delivered 50 years ago: It's crucial to invest in our own communities. When we bank with Black owned banks, we help keep our money rotating within the Black community. Think of the outcome we'll see after depositing our checks at Black owned banks, then using that money at a Black owned restaurant or shop, and those business owners then turning around and invest that money in the Black community as well. The cycle continues, and the impact is phenomenal. Join the movement with OneUnited Bank, where you can open a checking or savings account, enjoy the convenience of personal banking and online banking, and invest in your community in a great way.