At OneUnited Bank, the protection and security of our customers is our top priority. There has been an increase in fraud attempts caused by phishing scams. Here are 8 important ways to help you stay protected.
What is Phishing? Phishing is a fraudulent attempt to obtain confidential information by disguising the inquiry as a request from a trustworthy person or company through deceptive emails, calls, or texts. Beware!
IMPORTANT: OneUnited Bank representatives will NEVER ask for your online or mobile banking username or password by telephone, email, or text message.
If you receive a call, even if the caller ID appears to be from OneUnited Bank, and you are asked for your password, hang up and contact us directly.
If you receive a text or email requesting your password, username or other credential such as multifactor authentication code, do not respond and contact us directly.
If you have already provided your password because you thought the call, email, or text was from OneUnited Bank, contact us immediately.
Here are 8 important ways to protect yourself: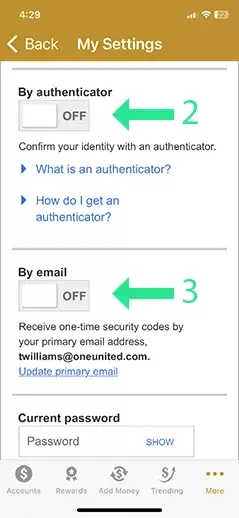 Enable Two-Factor Authentication (2FA)
Take advantage of our 2FA feature to add an extra layer of security to your account. (Call us if you need assistance to enable this feature.)
Turn on an Authenticator App for 2FA
An Authenticator is an app you can download to your mobile device to provide an extra layer of security. It's the most secure 2FA option we offer. In our app, go to My Settings, then edit Security options, and turn on By authenticator. Register an Authenticator App today!
Turn off Email Authentication
Turning off email authentication (and using an Authenticator App) will provide you with more security.
Use Strong Passwords
Create a unique, strong password for your online/mobile banking account with a combination of letters, numbers, and symbols.
Check Your Account Online Regularly
Login to online or mobile banking to check activity on your account regularly. Call us immediately if you see suspicious transactions.
Use Text Alerts
Set up text alerts in online/mobile banking to alert you of large withdrawals from your account. (Located under Settings and Push Notifications)
Use Card Command
Use Card Command in our mobile banking app, which sends text alerts when your OneUnited Visa Debit Card is being used. (Located under More and Card Services)
Keep Software Updated
Regularly update your operating system, antivirus software, and web browsers to patch security vulnerabilities. If your believe your device is compromised, have it reviewed by a professional.
We use state-of-the-art fraud protection tools to ensure your money is safe and secure. We're also FDIC insured. If you need assistance, contact our Customer Support team today at 877-663-8648.