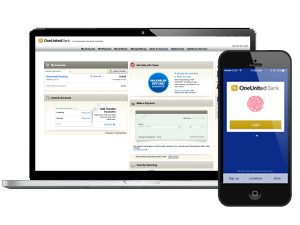 With free online banking, you'll enjoy all of the conveniences of a community bank anywhere you have an internet connection.
There are so many ways to manage your account online… we may never see you in a branch! You can…
Check your balances anywhere, anytime (Mobile Banking)…Get Cash Offers (Purchase Rewards)…Pay bills online (Bill Payment)…Deposit checks on-the-go (Mobile Remote Deposit Capture)…Receive balance alerts (Online Banking)…Transfer funds between OneUnited and other banks*…Manage a budget (FinanceWorks)…and more!!!
Enroll NowAll with no charge to you!
Yes FREE!
Open a bank account online todayView Demo
As always your security is a priority at OneUnited Bank and we have partnered with industry leaders Intuit Financial Services and Verisign to ensure that we provide you with the most secure online banking experience available. With OneUnited Bank, you can be assured that your banking is safe and secure.
*Regular transfer is free. Next day transfer is available for a fee with minimum balance requirement.
Please consult the OneUnited OnLine Banking Agreement and Disclosures for more details.