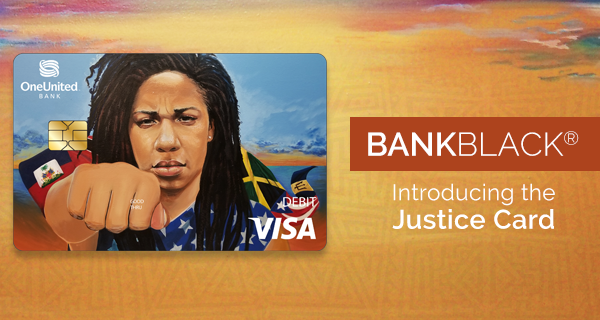 Meet Justice
We are proud to introduce our new Justice Visa Debit and ATM Card!
Many of you expressed the importance of reflecting the mosaic that represents the Black community. Many of us are immigrants from Jamaica, Haiti, Trinidad and Barbados or new arrivals from the U.S. territory of Puerto Rico. Many of us consider ourselves to be Black, African-American, Caribbean-American and/or Puerto Rican.
So…we introduce the Justice Card, with artwork created by internationally celebrated muralist Addonis Parker, as a strong addition to our Visa Debit and ATM Card collection supporting the #BankBlack and #BuyBlack Movement.
We recognize the contributions of native born African-Americans whose ancestors were slaves, such as our President & COO, Teri Williams. We also celebrate the contributions of immigrants. We strongly agree with Martin Luther King Jr. – "Injustice anywhere is a threat to justice everywhere."
As the largest Black-owned bank in America, we introduce the Justice Card because we know it's important to have a positive and accurate counter-narrative to the current negative and inaccurate press.
With your Justice Visa Debit or ATM Card, you show the power of our $1.2 trillion in annual spending and that #BlackMoneyMatters. And best of all the Justice Card gives you access to over 30,000 surcharge free ATMs across the country.
Get your Justice Card today so that you can #BuyBlack every day!