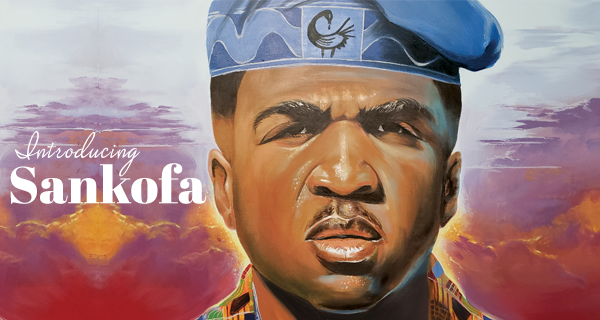 Introducing Sankofa
Sankofa is a word from Ghana that translates to "Go back and get it" and represents the proverb "It's important to go back for that which you have forgotten" or "go back, look for, and gain wisdom, power and hope." Sankofa also refers to the Adinkra symbol represented by a bird with its feet facing forward while his head turns backwards to catch its lost egg. It symbolizes taking from the past what is good and bringing it into the present in order to make positive progress through the use of knowledge.
In honor of Black men, we commissioned this powerful painting by Addonis Parker. The use of the Sankofa symbol on his cap was his idea…which we love!
At OneUnited Bank, we know the importance of Black men in our community. We partner with BMe Community an award-winning network of community-builders known for defining people by their positive contributions. Black men are assets to society. Every day, black men give their time and energy to help others in schools, businesses and neighborhoods. They are fathers, coaches, students and entrepreneurs – men from all walks of life. They are not always respected.
Let's celebrate and learn lessons from our past to build wealth and create a more fair and just community. Let's show our respect for Black men.
Let's show the power of the $1.2 trillion of annual spending of the Black community and that #BlackMoneyMatters. Open and account today!