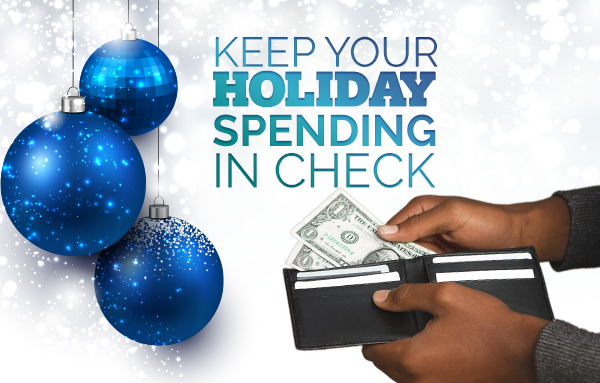 How to Keep Your Holiday Spending in Check
Even though the holiday season happens at the same time every year, it still has a tendency to sneak up on us. Before you know it, you'll be attending or hosting parties and family get-togethers, exchanging gifts with family, friends, and coworkers, and maybe even indulging in new holiday decorations for your place. If you aren't careful, the holiday season can easily consume more of your budget than you planned – a major issue for people trying to build or rebuild credit. But we've got you covered with some tips on how to keep your holiday spending in check so you don't start the new year in the red.
Don't Just "Wing" It – Have a Plan
Planning ahead can make a all the difference in the amount of money you spend during the holiday season. For example, if you travel to see relatives, don't wait to the last minute to book your travel. Spend time comparing rates instead because you'll spend less money booking in advance…most of the time.
Impulse buying kills your budget, so think about who you buy gifts for and create a shopping budget before you head out to shop. You can use cash back websites like ebates.com to keep your costs down, and shop the sales like a pro if you plan in advance. Not to mention, planning for your holiday purchases in advance may keep you from missing out on those hot-ticket items that are usually sold out before the holidays are in full swing.
Pro Level Tip: Use your calendar to plan out your holiday expenses so you won't leave everything until the last possible minute.
Create a Complete Holiday Budget
Sure, you've thought about your holiday gift shopping spending, but did you remember all of the other expenses of the season you might have? If you host parties or dinners for large groups of people, your grocery bill is going to increase. If you like to buy extravagant decorations or lights to make your place as festive as possible, these are expenses that probably aren't in your regular budget. Look for ways to reduce the expenses of these events and activities without missing out on quality time with friends and family. Potluck dinners are fun as all get out, and you don't have to serve a four course meal at your cocktail party…just go with some really tasty appetizers instead.
A good rule you should follow is looking at how much you spent during the holiday season last year to help you calculate how much you'll spend this year. If there is time, set up a savings account dedicated just to the holiday season and contribute money to it each week through automatic deposits leading up to the holidays. If you can't do it in time for this year, take a few minutes to set one up to save for the holidays next year with an automatic savings account. If you start in January of next year, you have 11 to 12 months to contribute to your holiday budget. Let's say you normally spend around $1,500 during the holiday season, that means you only need to set aside around $125 a month or about $31 a week all year to have a debt-free holiday.
Avoid Credit Cards
Credit cards can be dangerous during the holiday season. If you tend to have trouble staying financially disciplined, you'll want to avoid credit cards altogether and use cash. After you have your budget in place and saved the money needed in a dedicated holiday savings account, put that cash in an envelope and use it for all of your holiday-related expenses. If the envelope runs out of money, you need to stop spending, simple as that. This is a sure-fire way to stick to your budget and avoid starting the new year with debt that can take you more than a year to pay off.
Enjoy the most wonderful time of year even more because you aren't stressed over how you will pay for it.