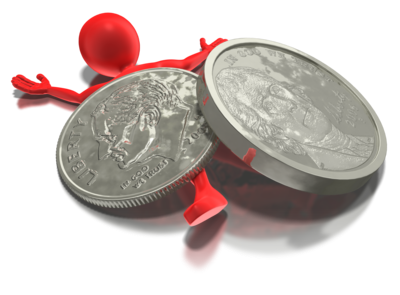 How to Avoid Bounced Checks and Overdraft Fees
Have you ever written a check or used a debit card and ended up with a bounced check fee? While bouncing a check can be embarrassing-and have nasty legal consequences-the resulting fees can be crippling. Not only may you end up having to pay a fee to the recipient of the bounced check, but overdraft fees can quickly add up and make it almost impossible to climb back out of the hole.
Many banks charge fees if your account is overdrawn or if a check bounces. Called overdraft (OD), insufficient funds charges (IFC), or not sufficient funds (NSF) fees, these bank charges can be avoided. You can avoid them by banking with the right institution, keeping track of your accounts, and avoiding the tricky "opt in" options that some banks try to use to run up your fees.
Say "No" to "Opt In" Fees
Banks are now required to allow you to opt-in to debit card overdraft fees rather than automatically enrolling you in a program that charges $20 to $35 whenever there are insufficient funds to cover your purchases. That means if you do not opt in and you attempt to buy a cup of coffee without sufficient money in your account to cover the purchase you can avoid paying more than you bargained for. Yes, your debit card would be denied, but you would also save $20 to $35 in bank fees for that cup of coffee. Some banks will sneak fees and optional charges into your bank account documents. Most of these banks will ask you to "opt in" for their debit card overdraft program. Do not opt in and you'll save money.
Careful Account Monitoring
Today, virtually every bank allows some form of online banking. This typically lets you check your account balances, make transfers, and perform other common banking tasks from the comfort of your home or from your mobile device. Using these online banking features, you can carefully monitor the money coming in and going out of your checking accounts. Should a bank fee or other surprise pop up that might cause an overdraft or bounced check, you can catch it and make sure you have adequate funds to prevent any fees.
Choose a Better Bank
One of the best ways to avoid unnecessary fees is to choose a better bank. OneUnited Bank does not allow you to overdraw an account on your debit card, making it possible to avoid needless fees altogether.
Some banks will try to charge high fees multiple times per day and continue charging you every day you are overdrawn. OneUnited Bank only charges a one-time fee of $35 if your check bounces, and does not charge interest. If you want to avoid bounced check fees altogether, OneUnited Bank offers overdraft protection services with automatic balance transfers that cover insufficient funds situations from your savings account for a simple fee of just $10 per transaction.
Other banks make a lot of money on overdraft fees. Stop being nickeled and dimed! Avoid fees by banking smarter with an account from OneUnited Bank at www.oneunited.com.