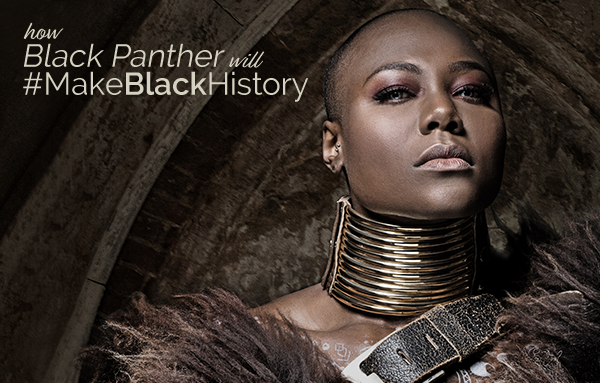 How Black Panther Will #MakeBlackHistory
The Black Panther film is the first Marvel movie focusing on predominately Black characters and featuring a predominately Black cast. The main character has been in Marvel Comics since 1966, with his debut in the Marvel Cinematic Universe in 2016's Captain America: Civil War. Black director Ryan Coogler understands just how important this movie is to our culture, and he's using it to create discussions about race and racism.
Here are a few ways that Black Panther helps us understand race in our culture and how it will strategically #MakeBlackHistory.
1. Casting Matters
The typical experience for a Black moviegoer is that most movies have a mostly white cast. At most, there will be a small sprinkling of people of color, and perhaps one or two Black characters. Black Panther has turned this on its head by having an almost entirely Black cast. In fact, previews show us only two white characters: one, an aloof lawman played by Martin Freeman, and another played by Andy Serkis who is a villainous henchman.
There were many humorous responses to the casting, with some internet commentators noting that these two Lord of the Rings veterans are the "Tolkien" white guys for the film. However, the casting has also created serious conversations about race in movies. Some white moviegoers seemed confused at seeing so little of themselves in the previews for this big, blockbuster movie. Of course, this is Coogler's point: that's how Black moviegoers feel watching nearly every film! And switching the paradigm is one way that Black Panther will #MakeBlackHistory.
2. Representation Matters
Superheroes capture the imagination of children at an early age. When we ask kids what they want to be when they grow up, we are typically thinking of their future careers. However, kids waste no time saying they want to be a superhero. Sadly, there are few Black onscreen superheroes for them to emulate.
Blade was the last onscreen Black superhero that was a big hit, and these R-rated movies were out of reach for kids. Other attempts at Black superheroes were usually just drawn-out jokes, like Robert Townsends' Meteor Man or Damon Wayans' Blankman. Will Smith did a good job as Hancock, but the whole point of his character is that he spends most of the movie as a lazy, alcoholic mess. With Black Panther, we are finally getting a movie that kids can see with a positive Black character who is heroic through and through, another way that Black Panther will #MakeBlackHistory. Finally, a new generation of kids will want to be a Black superhero when they grow up! We also expect Black children will be inspired by technology and embrace coding as a winning opportunity.
3. Black Music Matters
Hip-hop is a major part of Black culture, producing some of the hottest songs and coolest singers. Director Ryan Coogler understood that if the Black Panther character was going to represent Black culture, he'd need an absolutely killer soundtrack in his corner.
Fans were thrilled to hear that the soundtrack is headlined by King Kendrick himself. He is accompanied on this track by Future, James Blake, and Jay Rock. Not only does this guarantee that the movie soundtrack will be fire, but it means that mainstream audiences (the kinds who go to every Marvel movie but don't know much about Black music) are going to get a crash course in Black artists. We predict more than a few people are going to walk out of their theaters downloading King Kendrick, which is a fun and sneaky way of spreading Black music and culture to the world. We always say, you don't have to be Black to #BuyBlack!
4. Feminism Matters – #BlackGirlMagic
Most of our attention has been on the Black Panther (played by Chadwick Boseman) and his villain, Erik Killmonger (played by Michael B. Jordan). However, recent TV spotlights have given us a larger glimpse of the Dora Milaje, who are the female bodyguards of the King of Wakanda.
Director Coogler has put strong Black women to the forefront in this movie. This simple move highlights our need for more strong women of color on the big screen. It all goes back to representation, and this gives us our first strong Black female characters in the entire Marvel Cinematic Universe. Yes, #BlackGirlMagic is represented.
5. Black Money Matters
The number of views to the trailer and ticket presales for Black Panther are off the charts! The film is expected to be one of the biggest grossing movies in Marvel's history. From films like Get Out to Black Panther, the power of the #BuyBlack Movement and our $1.2 trillion in annual spending is represented. No longer can Hollywood ignore the fact that #BlackMoneyMatters. Black Panther and Director Coogler should pave the way for more films that better represent Black culture and pride.