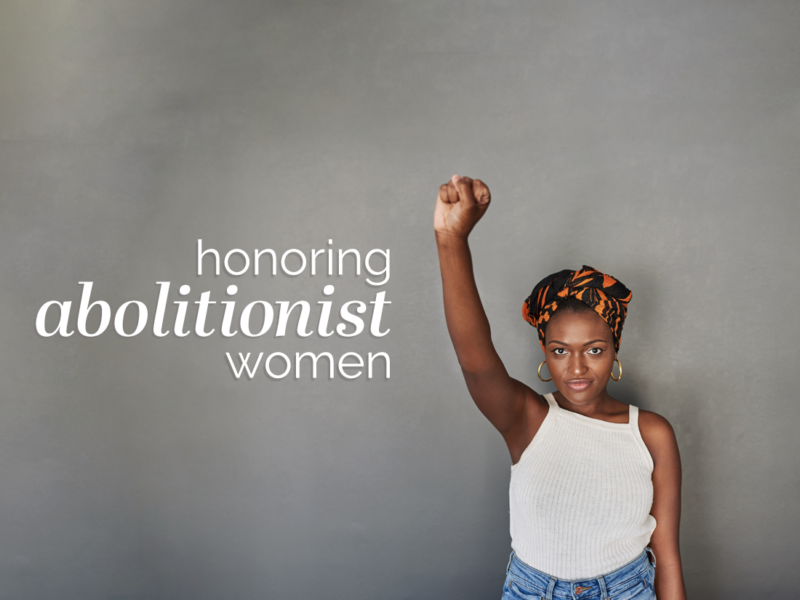 Honoring the Black Abolitionist Women League
We need each one to teach one…especially about Black women. Black women fought valiantly to bring civil rights and voting rights into the limelight while not always benefiting from those efforts themselves. Let's shine a light on how they revolutionized our country and celebrate the major role they played in these movements. Together, let's honor the Black Abolitionist Women League this Women's History Month!
It's been 102 years since the ratification of the 19th amendment, which promises all American women "suffrage" or the right to vote. However, we can't dismiss how high-profile leaders of this movement (primarily white women) deterred the inclusion of all women. Their agendas sought equality with their white husbands and lacked any real efforts to achieve that same equality across racial boundaries. The suffrage struggle acquiesced to white supremacy – and selling out the interests of African-American women – when it became politically expedient to do so. This betrayal of trust opened a rift between Black and white feminists that persists to this day.
The Backbone of the League
We all know of Rosa Parks, Harriet Tubman, and Angela Davis, all pillars and icons of the Civil Rights Movement. Their tireless efforts to move forward equality for Black Americans SHOULD be widely known and celebrated. But they are not alone in the fight for equality for Black Americans, so let's focus on a few other influential Black women leaders in our community who helped us all be where we are today.
Dorothy Height
Dorothy is considered the "godmother of the Civil Rights Movement." She was one of the people who coordinated the 1963 March on Washington. At 25, she joined the ranks of the National Council of Negro Women (NCNW). By 1957 she was named president, holding the position for 40 years! Yes, you read that right, four decades of incredible leadership at the NCNW is an amazing accomplishment for any individual. But her legacy doesn't stop here. She served as counsel to First Lady Eleanor Roosevelt, served as a consultant on African Affairs to the Secretary of State, the President's Committees on Employment of the Handicapped, and the Status of Women. Dorothy Height recognized what was hurting Black Americans were systemic, and the path to change involved affecting those system from within.
Ella Baker
Ella Baker was instrumental in planning the Student Nonviolent Coordinating Committee's (SNCC) founding conference at Shaw University in Raleigh, North Carolina. She brought Martin Luther King Jr. into the fold by encouraging him to invest in the forum. This organization would serve as a channel for young people to focus on supporting the Civil Rights Movement here in America. She used to repeat "strong people don't need strong leaders;" but facilitating this required extensive travel, conversation, and meetings. It was Baker who, first as an NAACP field secretary and later as its director of branches, spent the 1940s traveling from town to town to encourage Black people to join together and peaceably insisting that they were deserving of basic human rights.
Mary Church Terrell
One of the first Black American women to earn a college degree, Mary Church Terrell was known across the nation as a strong civil rights and suffrage activist. A friend to Ida B. Wells-Barnett, a founding member of the National Association for the Advancement of Colored People (NAACP), Terrell worked on anti-lynching campaigns. She advocated for #BlackExcellence, in the form of education, work, and community activism. Terrell was undeniably a driving force for the advancement of our community. Her words, "Lifting as we climb," became the motto of the National Association of Colored Women (NACW), the group she helped found in 1896. And we continue to be inspired by these words in the work we do providing financial services to our community today.
The excellence doesn't end here! Not even close. Septima Poinsette Clark, Diane Nash, Fannie Lou Hamer, Daisy Bates, Ruby Bridges, Claudette Colvin, and Ruby Dee…there are so many fierce women to celebrate in the pursuit of equality for Black Americans. We could spend the whole month – heck, the whole year – talking about all of these amazing women and still have more stories to tell and celebrate. It's why it's so important to take this moment and honor them now.
Black women were the backdrop to the Civil Rights Movement, but gained less attention than men of the era. As owners of our history, Black Americans need to honor and pass on their stories and contributions to the movement. But not only us, America needs to learn and treasure these history makers, because Black History is American History.
Let's cherish the great legacy of the Black Abolitionist Women League, and breathe new life into their legacy. Their outstanding courage, dedication, and unbroken spirit made it possible for us to proudly rebuild the New Black Wall Street and work to build generational wealth within our community.