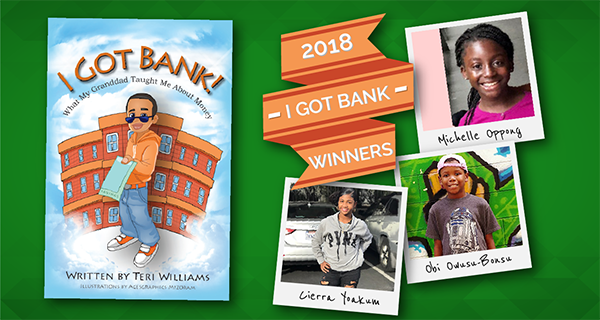 Future Kings and Queens Start Building Your Treasure!
With our 2019 Annual "I Got Bank" Financial Literacy Contest, your child can #MakeMoneyMoves and win a $1,000 savings account! To participate, simply visit www.oneunited.com/book.
Here are three of our 2018 winners (in alphabetical order) and their essays: Michelle Oppong, 9, Los Angeles, CA, Obi Owusu-Bonsu, 12, Los Angeles, CA and Cierra Yoakum, 10, Los Angeles, CA.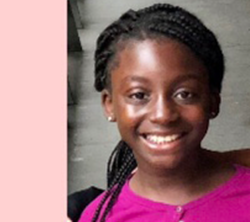 Michelle's brain is as bright as her smile! And at 9 years old, she won a $1,000 savings account! Children age 8 to 12 can participate! Congratulations Michelle!
MICHELLE OPPONG, 9, LOS ANGELES, CA
"I Got Bank" is a very educational and exciting book. It talks about loans and how people should learn about finance. Giving these books to young people will not only help grow their financial responsibility, but their bank accounts too.
The book is based on a boy named Jazz, who earns a $2,000 bank account that his grandfather gave him. His family has money problems and like to buy things they don't have any money for. They also get loans and don't know the full effects of them.
I've learned many things, including how to balance my money and how to save some money that I get from birthday parties and holidays into my savings account. I am even more excited to put my earned money in kid stock programs, like Stockpile and watch it grow over the years. Who knows, in the future, I might use it to buy a house!
I can use this information to inform more people about money and how to be careful with it, unlike Jasmine. In the story, Jasmine had to pay more than her original loan, due to additional high interest. Money is not just paper you buy something with, you can invest it and watch it grow. I would encourage more people to learn more about financial responsibility and to make good money decisions.
My family could use this information to go to the bank more often. I will also tell them to avoid getting some types of loans, like payday loans. My motto in life is "If you don't have the money, you don't need it!" The book was good and from now on, I will look at money in a more positive way.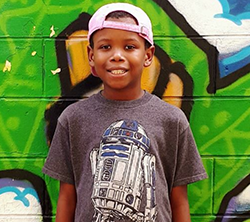 Meet Obi, who is on his way to building his kingdom! His $1,000 winning is just the beginning of his treasure. Congratulations Obi!
OBI OWUSU-BONSU, 12, LOS ANGELES, CA
The book I am reading is called Rich Dad Poor Dad, by Robert Kiyosaki. I like this book, because it allows you to learn in a creative way, which is by working as you learn. I would recommend this book to people who want to make money work hard for them, so they don't have to work hard for money. There is also a board game that was made by the author of this book and it is a good game that talks about money. I really like both because it is realistic and makes you think about money in a new way.
I have learned many things from this book for the past few months. I learned that the best way to learn how to make money is to work at the same time. I learned that everyday life pushes you around and says, "wake-up" and you either let it keep pushing you around or you can fight.
I will use this information to make money work hard for me so I don't have to work hard for money. An example would be buying a good strong growing stock. I could buy a house and people would pay me rent money. Right now I am working on a healthy popcorn business. I also learned that to have good business I need to start with a business plan, so I am working on that and my website now.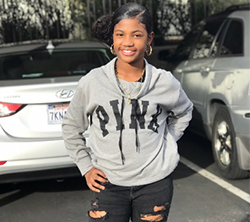 So Cierra participated two years in a row and we're glad she did! An important lesson for our children, "If first you don't succeed…try again"! Congratulations Cierra!
Cierra Yoakum, 10, Los Angeles, CA
My name is Cierra Charnay Yoakum and I am 10 years old. I know from experience that saving money can be a very difficult task. Jazz Ellington taught me things such as: how to save money, use it wisely, and to give it to people that make wise decisions with it.
On April 14, 2018 at the Crenshaw YMCA Health Care Expo, I met a business owner. She was looking for girls that were willing to work. Luckily, I was given the opportunity to work with her as one of her Spa-tastic Stylist. She teaches me how to manage and save my money. I relate to Jazz because both of us work hard and know how to manage our money. Nevertheless, I am tempted to spend my money on unnecessary things every day. However Jazz taught me that saving money is more important because you might need it in the long run.
In the book "I Got Bank" Jazz's sister Jasmine wanted some money for a concert. The total cost was $150.00. Jazz refused because she could get a job to pay for those concert tickets. She did, she got a job at the car wash. She could have waited to get $150.00. However, instead Jasmine got a payday loan from the Quick Check Cashiers. She got a payday loan because she couldn't wait any longer to get the concert tickets.
The same situation happened to me. My cousin wanted some money for Six Flags. She wanted $100.00. I thought to myself, that she could get herself a job and probably get $100.00 in a week. I also told her no because she buys clothes and shoes instead of saving her money.
Every week or so when I go to a store like Walgreens, CVS or Albertson, I always donate to different charities. I learned this from Jazz on the last chapter of the book. On the last chapter of the book, Jazz gave Jasmine $100.00 for the kids that needed books. When he gave that $100.00 to Jasmine that really persuaded me to donate to different charities because I know that every penny, dime, nickel, or quarter counts.
In conclusion, I really learned a lot about how to save money, spend it, and how to give it to people that use it wisely. I want to teach people to do the same thing. I learned so much how to give to charities, and how to work hard for my money. Just like Jazz, I am going to start my bank account in the next few months. I have over $150.00 saved up from working for my company. I am starting my bank account to insure that all my money is safe. I am so glad I read this book and learned so much more about money!
Minor edits made in the essays. For details, please visit www.oneunited.com/book. Also to learn about the Children's Online Privacy Protection Act, please visit our Privacy page.