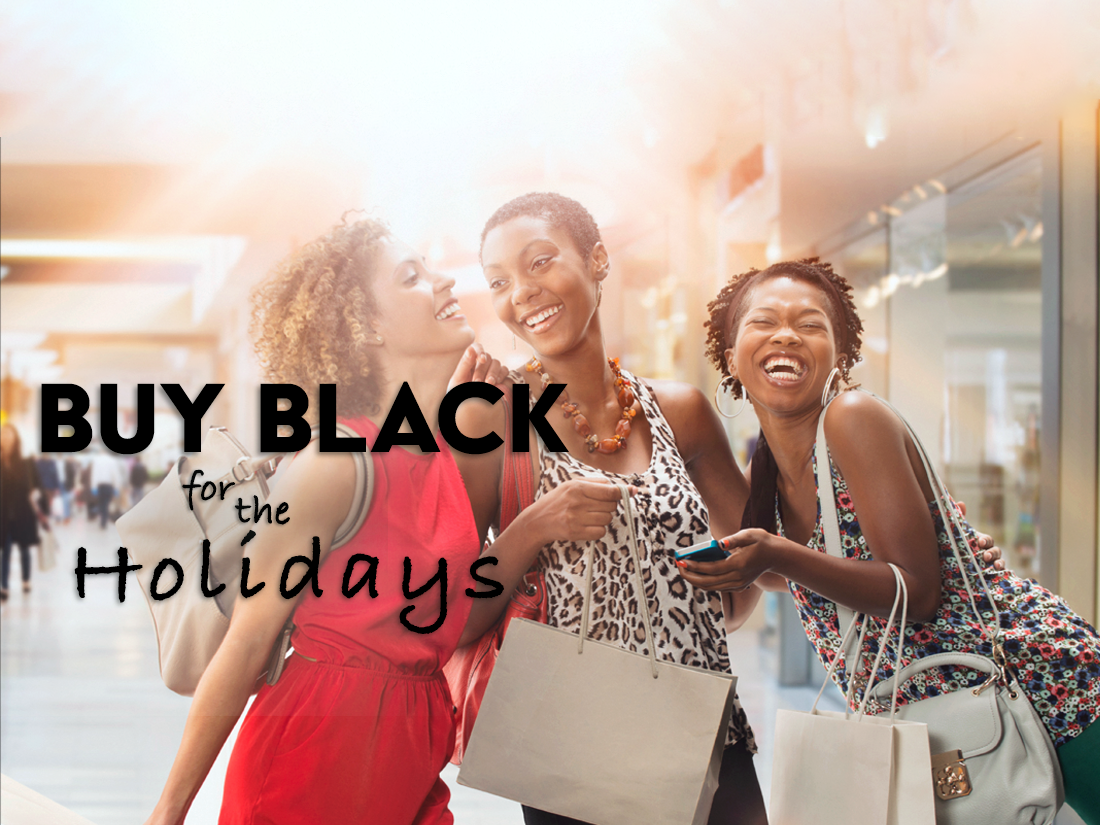 Buying Black for the Holidays
It's that time of year again! Yes, you guessed it, this is our annual holiday shopping cheat sheet! Let's get into these Black-owned brands that will have you looking coordinated, stylish and extra melinated for the holiday festivities.
Before we start let's remember the assignment… to #BUYBLACK!…and say it louder for the people at the back! Your efforts to shop with your community positively impacts our ability to #BuildBlack, support our founders and encourage entrepreneurship.
Brand 1: Brandon Blackwood
Must we say anything more? The brand that brought us the iconic end "systemic racism" bag. Any of their bags are great gift options for your resident fashion fanatic. Their signature bag encouraging the dismantling of an oppressive structure was a direct response to increasing Black Lives Matter protests in 2020. Snag yourself one of these not-so-subtle statement pieces in what ever color suits your fancy. We like the Black, Red, and Green options!
Brand 2: Afro Pick
Afro Pick's products deal some serious levels of culture. They state, "AfroPicks are more than just a tool to take care of our natural hair. They are also a symbol of unity, strength, and heritage. Through the marriage of art + culture, we're on a mission to bring afro textured hair back to the 'norm'." The Walker brother bring us pieces of art that are steeped in heritage and serve as beautiful reminders of our #BlackRoyalty.
Brand 3: Beauty Stat
Cosmetic chemist founded, Beauty Stat prides itself in the quality of their products and the transparency of their brand. We all know the power of our skin and the beauty of our high definition melination! Add Beauty Stat's products to your routine to maintain and nourish your glow. Tip: Super charge your skin with their show-stopping vitamin C serum.
Brand 4: Harlem Candle Co.
No holiday season would be complete without a couple candles! With Harlem Candle Co's scented candles inspired by the richness of Harlem, you can set the right mood. With options like "Langston", reminiscent of the great Langston Hughes, their collections are unapologetically Black and proud. Surround yourself with their luxurious fragrance and experience the beauty and sophistication of the Harlem Renaissance.
Brand 5: Bevel
We all know how important it is to look our very best. We know even better how difficult it is to find brands tailored to our unique attributes. Bevel covers skin, body, hair and shaving products, a full grooming solution for him. We can't get enough of their grooming masters classes yal! They truly went next level #ForTheCulture and we appreciate their attention to detail.
Check, check, and check, you have now concluded your masterclass on how to circulate your dollars in our community for the holiday season!
Save Save Save
Here is a little secret… our AutoSave feature, helps you save while doing your holiday shopping! Add a line to your list and call it Save Save Save. With each purchase we automatically take your rounded up change and save it for you in your designated savings account. Watch your change add up!
Yes, you understood the assignment! #BuyBlack #BuildBlack!
As your one stop shop for holiday gifts and stocking swag, we wish you the most joyous time with your loved ones and a season filled with laughs, love and community!