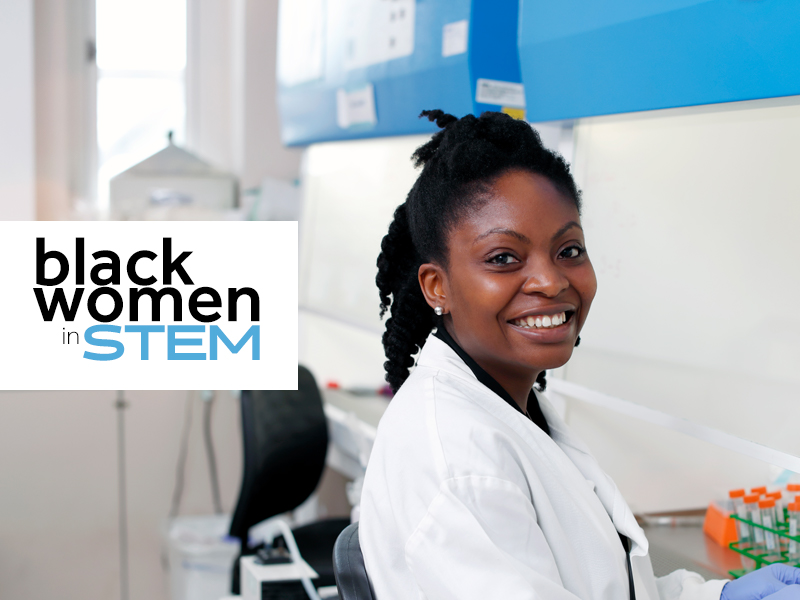 Black Women in STEM
STEM (Science, Technology, Engineering, and Mathematics) fields are male-dominated. Black women have dealt with racial and gender discrimination throughout their careers. Despite the roadblocks, many women's contributions are difficult to ignore as their work led to many groundbreaking discoveries and inventions. Join us in celebrating these amazing women who've made major contributions to STEM.
You may recognize her as one of the women who inspired the true story of the film adaptation, Hidden Figures – a story about three women who were the brains behind NASA's major space mission. Katherine Johnson graduated with degrees in Mathematics and French. She was hired as Langley Research Center's "human computers" in 1952. Weeks later, she was promoted to the flight research division. Without her calculations, missions in the early 1960s and the 1969 moon landing would not have been possible. She was so accurate with her calculations that male astronaut, John Glenn, trusted her to lead him into space, and so she did! "One small step for man" is a bigger step for women.
Mae Jemison was a woman who had many firsts under her belt. Before she worked for NASA, Jemison was a general practitioner and attended engineer classes in Los Angeles. Jemison was more than qualified as she was Peace Corps' medical officer for Sierra Leone and Liberia before NASA accepted her into their astronaut training program in June 1987. She became the first Black woman to be a science mission specialist, as well as the first Black woman in space while onboard the Endeavor for an 8-day mission. She led Black women out of this world.
Alexa Canady graduated from the University of Michigan's medical school with a B.S. in Zoology. She became the first Black woman to be certified by the American Board of Neurological Surgery in 1984. At just 36 years old, she was appointed the Chief of Neurosurgery at Children's Hospital of Michigan. She specialized in congenital spinal abnormalities, hydrocephalus, trauma, and brain tumors.
Mary Mahoney was the first Black woman to complete nurse's training in 1879. She was one of the first Black members of the American Nurses Association. After the ratification of the 19th Amendment in 1920, Mahoney was the first Black woman to be registered to vote in Boston. Her nursing career led to her being inducted into the Nursing Hall of Fame and National Women's Hall of Fame.
Dr. Gladys West was another Hidden Figure inspiration whose mathematics calculations led to the invention of the Global Positioning System (GPS). At the U.S. Naval Weapons Laboratory, West helped create a study proving Pluto's motion similarities to Neptune's motion. She also made an IBM computer generating an accurate geo-model of the Earth, which turned into the complete invention of the GPS. Without her, we would be lost.
Underrepresentation is a challenge in STEM fields and these amazing women are just a few examples of why it is so important to have representation. Without the contributions of these women, we would not be where we are today. We hope their stories inspire Black women and all women to follow their footsteps and continue along the path they've created in their STEM field.