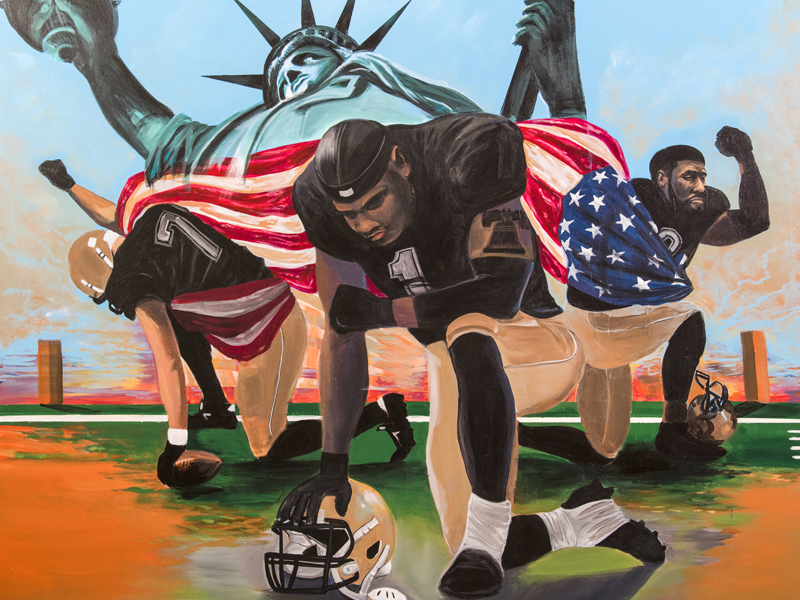 Are We Past #TakeAKnee?
Recently it was announced that Jay Z and Roc Nation inked a deal with the NFL to promote social justice during half-time shows. The deal has caused us to ask the question, "Are we past #TakeAKnee?"
In October 2018, OneUnited Bank, the largest Black-owned bank in America, along with the ACLU and BMe Community, launched the #TakeAKnee Campaign as a nod to the national #TakeAKnee movement started by Colin Kaepernick. Over 180 football players including Kaepernick, Eric Reid and Kenny Stills refused to stand during the national anthem in silent protest of police shootings of unarmed Black people and the need for criminal justice reform. As a community, we continue to stand by them today!
However, according to Rolling Stone and ESPN, the new Roc Nation/ NFL deal has the potential to boost the NFL and its Inspire Change initiative. Inspire Change focuses on education and economic advancement, police and community relations, and criminal justice reform.
So why doesn't it feel inspiring?
Many football players, especially Kaepernick, put their careers on the line to protest injustice in our community. Yet even today, Kaepernick has not been signed by a NFL team despite having achieved better statistics and greater success than many quarterbacks who are currently playing in the NFL. Eric Reid's response to Jay Z was, "It looks like your goal was to make millions and millions of dollars by assisting the NFL in burying Colin's career." Yet Hov says, "I think we've moved past kneeling. I think it's time for action."
Similar to Charlamagne, we see significant merit to both positions. Jay's proposed NFL entertainment deal provides a worldwide forum for Hov to showcase Black American culture, talent, and sophistication and promote social justice. This action enhances Black Americans worldwide brand as cultural and social influencers, which is a very good thing. Also, it puts Hov on the inside, which can be very advantageous for instituting change.
We also admire and applaud Eric Reid for being a true hero for us, he is symbolically the Last Man Standing. He continues to selflessly sacrifice himself for our civil and economic rights. We're also thankful for businessmen like Jay-Z, who can get an organization of the scale and scope of the NFL to come to the table and negotiate in meaningful ways that yes, benefits Jay-Z, but also benefits our community. So, let's salute these two brothers who in their own substantive ways are heroes among us.